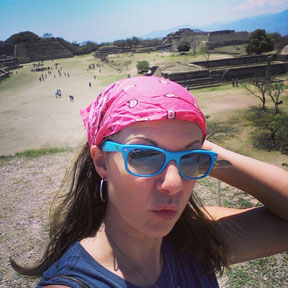 From 31st of March to the 5th of April: When I came back from Guatemala my biggest wish was to see Oaxaca again before I would fly back to Europe.

So I took a bus to Oaxaca after a stopover in San Cristobal de las Casa. 
I was also looking forward to meet my Mexican friend again. I was very excited because now I was able to talk with him properly in Spanish…
I stayed for a couple of days in my favorite hostel Azul Cielo because it was booked out due to Semana Santa. It was time enough to get to know to a very cool German guy who is a friend of my friends…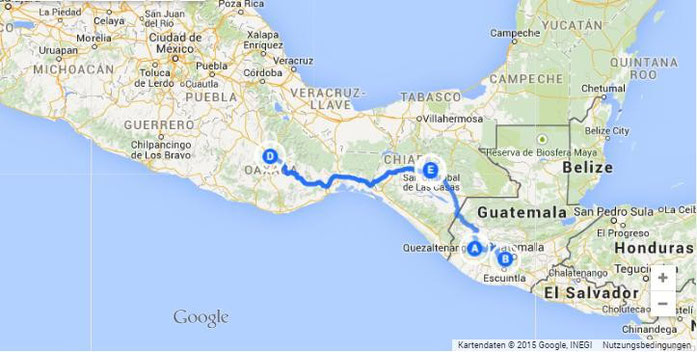 Getting to know to locals and practice Español
Due to I wanted to get to know to some locals and practice my Spanish I checked out CouchSurfing opportunities. One guy wrote me back I could stay it his place. But he answered very late, hence I booked a hostel.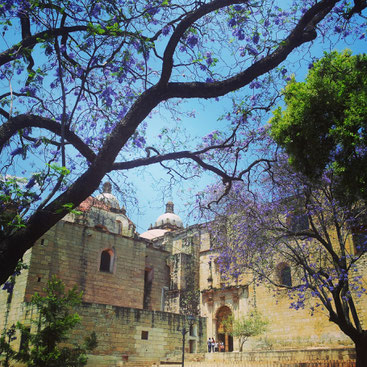 CouchSurfing meet up – a good way to get to know to locals and make new friends!
Anyway, I answered the guy that I booked a room but it would be great if we could just meet and have a chat. That was what we did.
He was very kind and showed me some places in Oaxaca I didn't know before. For the next couple of days he would be out of town. Therefore I was very lucky to meet him.
I think contacting CouchSurfing hosts and ask them if they want to meet up is a great way to get to know to people. It would be also a good option if you are new in town to make new friends.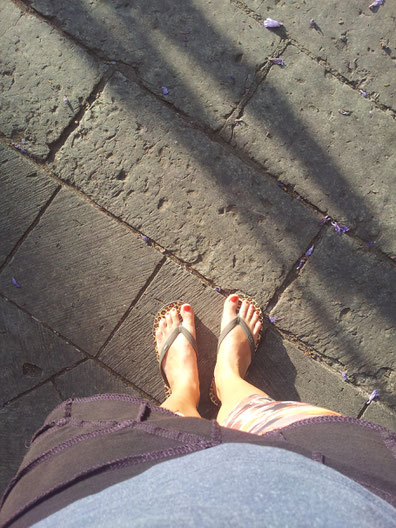 Visiting the surroundings of Oaxaca
Coming back to Oaxaca was like coming home. The first what I did was eating a Tlayuda and drinking a Tejate.
I used my time to visit some places around Oaxaca I haven't seen so far. One part of my heart belongs for sure to this amazing place where I feel just home: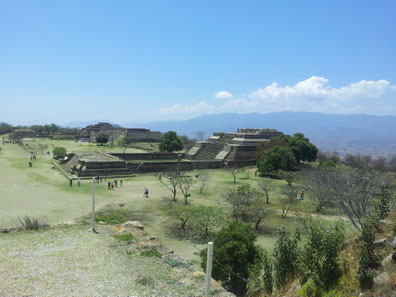 I also visited the so-called El Tule. It is a very old and big tree. Probably it is around 1.600 years old. I had no clue how far it is and what to expect. 
Therefore I said to my German friend I would spent the day at El Tule.
Well... I took a collectivo taxi for 10 pesos, was there in 15 min, took for 10 min photos of the tree, had an ice cream for 15 min. and took a collectivo taxi back to Oaxaca City... ;-). 
But it was worth it - vale la pena: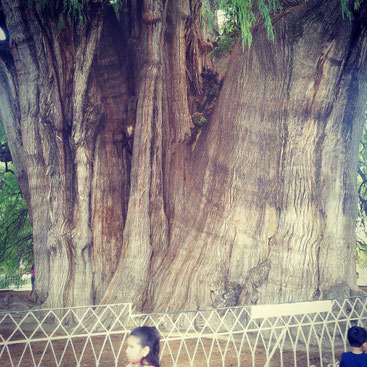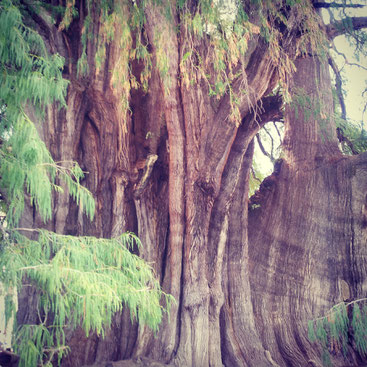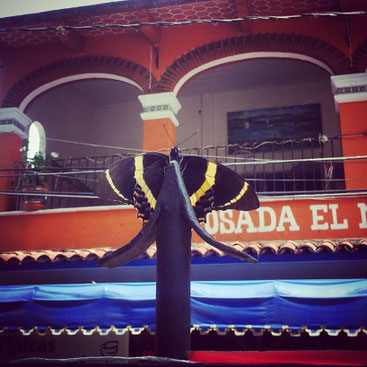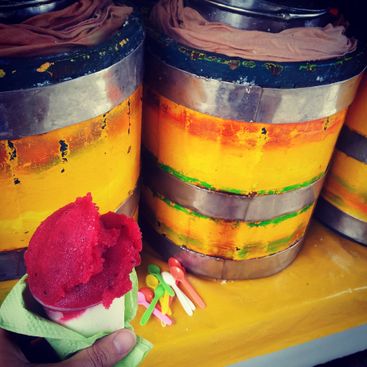 El mundo es un pañuelo...
I stayed for two days in my favorite hostel Azul Cielo. Due to Semana Santa it was fully booked. All my friends were already at different places. A new guy was at the reception.
He showed me my room and explained everything in Spanish to me. I asked him if he would know one of my friends. He knew her.
Suddenly a tall guy with a beard talked to me and asked about my friend. 
Well, it turned out that the tall guy was also from Germany and he was friends with my friends. He came when I left in February to Guatemala. We just missed each other for two days.
10 years of travelling
Yes! The world is a village or even a tissue
Even more a coincidence is that my German friend lived at the same time in Vancouver at Jericho Beach when I was there! It was very likely that we saw each other due to it is a very small place. And finally we found each other in Mexico in Oaxaca. Well, the city is magical and attracts interesting people.

Medico sin fronteras
At Azul Cielo stayed a group of Mexicans. I talked with one who turned out to be a doctor and part of medicos sin fronteras. I found it very impressive.
He is also a photographer and took a very beautiful photo of my wrist tattoo which I dedicated to my grandfather. I told him the story behind it. Very lovely guy.
Reunion with my Mexican friend
When I was the second time in Oaxaca I met a very nice Mexican guy. He talked to me when I was walking through the street and felt just great. His appearance and his nice odor just hypnotized me. I still have the sound of his laughter in my mind.
We met a couple of times and had a great time together. At that time my Spanish was very bad and I understand just 50% of the conversation…
However, my Mexican friend wrote to me when I was in Guatemala. I answered I would come back to Mexico and would visit Oaxaca again. He thought I was joking… He was in Mexico City when I came but came back a bit earlier and we could see each other again.
Nerviousa and difficult to find each other
I was very excited to see him again. How would it be after almost 2 months? And now I can understand him and can answer! I was also very nervous.
Due to Semana Santa a lots of people were at our meeting point. So we needed about 30 min to find each other. It was quite funny and we started laughing when we saw each other. 
It was like before when we first met and his incredible odor hypnotized me again… When I am writing this I still remember exactly how he smells. A mixture of fresh washed clothes, babycream and man… ;-).
Finally I can answer!!!
We talked a lot and it was an amazing feeling to talk with him in Spanish. I already had some phrases in mind I wanted to use and talk about ;-). We ate something on the market and after we went into a bar where he introduced me to some friends.

Ride through the full moon night
It was a funny evening and later we drove on his motorcycle through the streets of Oaxaca. I felt again so free. I hugged him from behind and he petted my hands. I soaked in his smell and enjoyed the wind in my face. I went with him to his place.
By the way: It was again full moon. Like when we met before... 
Bad Karma?!
To be honest when we first met I could not proper understand Spanish. Therefore I was not sure if he had a girlfriend… I understood that he likes women and that it was always important for him to respect the other person. I could live with that due to I was travelling anyway. He was very respectful and I really liked him.
In his apartment I could not see any evidence if he lives together with a girl.
Suddenly I saw he had a photo on a shelf with him and a girl. I thought: "Hmmm, ok he seems to have a girlfriend…" Yes I know… Bad karma.  Normally not my style. I did not ask him about the photo.
Breakfast on the street
On the next morning we walked to a market close by, bought some Tamales, Horchata and sat on the sidewalk where we had our breakfast. I loved it. He was very respectful. I loved his smile and the sound when he was laughing.
We talked about life in general, simplicity and joy. I loved to talk with him.
about life and fear
In the evening we met again and went out. I have to say that I tried to keep my distance due to I was not sure if he had a girlfriend and maybe someone could see us (well… I know… his friends already saw us the day before and he introduced me to them…).
He opened more and more up and I had the feeling he needed to talk about some things. He told me about his fears and that he always needed do to something. He told me he was afraid I could say no when he talked to me on the street when we first met. And he feared I could already have someone else because he said Mexicans would look exactly for someone like me. 
And that he cannot just relax. He could hardly accept if people just watching TV and are lazy. He is very ambitious and likes people who are like that as well. 
I was impressed that a man can speak that open about fears and weaknesses. I think this is called self-confidence. Very interesting guy.
Hot chocolate and Yoga class in the morning
I stayed again at his place. The photo on the shelf was turned around… And on the next morning he made hot chocolate to drink for breakfast. So cute.
After breakfast he asked me if I could give him a Yoga class. For sure! 
He was very ambitious and asked me a lot to make it correct and also about the muscles etc. The Yoga would be a great exercise as balance for his extreme sport and restlessness.
Deep talks at the lake
This evening I stayed in my hostel. The next day was my last day in Oaxaca before I would take in the late evening the bus back to San Cristobal to start my volunteer job in a hostel.
At noon my friend picked me up from my hostel with his motorcycle and we drove to a lake close by. 
We stopped at a street vendor and bought coconut milk with other things in to drink. He said: "Es muy rico!" He passed it to me and I hold it in one hand while we were driving to the lake.
The place at the lake was beautiful. So peaceful… My friend was very tired and looked very exhausted… When he came back from Mexico City he had no rest at all. Restlessness… I know it pretty good from myself.
He opened more up to me. We talked about life and what really counts.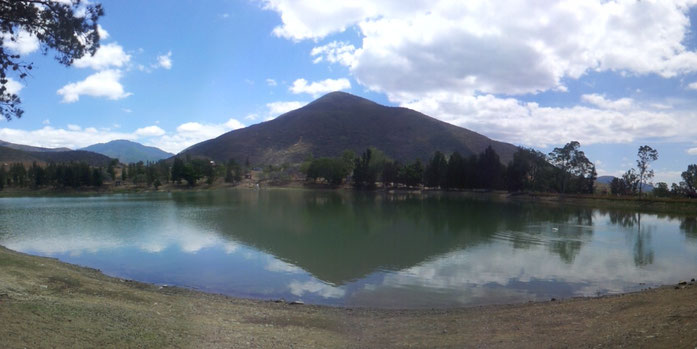 Solo una vida... he had no girlfriend, but...
He told me that he had a girlfriend but they separated.
She was from Europe and went back to her country. She asked him to come with him but he loved Mexico too much and just because it might be more secure in sense of money etc he did not want to leave it. That is why they separated. He told me he would fear to be alone...
It seemed he needed very badly to talk. And great that my Karma was not too bad ;-). He was single and obviously not that long. Some wounds needed still healing.

During talking he stopped, looked at me with his beautiful and cheeky smile and just said to me:"Qué colores tienen tus ojos? Me encantan tus ojos!"
Later he brought me back to my hostel and said he would maybe come to the bus station in the evening but could not promise anything.
Saying "Hasta luego" de nuevo
He did not come to the bus station. To be honest I hoped he would not… It would make things very difficult.
Now it feels more like "see you next time". 
I love him. 
I mean in Buddhism there is the aim to have love for everyone. It is also different from being fallen in love, I feel. When I was fallen in love things started always to get complicated or rather I got fear to lose it… Well, that is me.
I love him without the idea of having a relationship but deep respect.
When I was sitting in the bus I was thinking about the image of the coin in the hand again… I sent my friend a link to my story about the Estrella valiente and wrote a text in which I thanked him for the great time.
I received his answer on the next morning when I woke up after 12 hours in the bus.
His answer really touched me… He wrote he needed to cry when he read the story because he would fear death a lot and my story would put it in a better way. He wrote everyone could be an Estrella valiente and that I would be one.
Now I needed to cry when I read his lines…
What comes next?
Read next time about my coming back to San Cristobal de las Casas where I stayed just for one day at my workaway place and changed it on the other day due to a very weird experience…
I was lucky and found immediately a new place. Everything happens for a reason… So I got to know to a very great Russian girl.
That is obviously why I bumped into someone I met before when I was the first time there. I actually thought I would not see him that fast again... Well, everything happens for a reason.