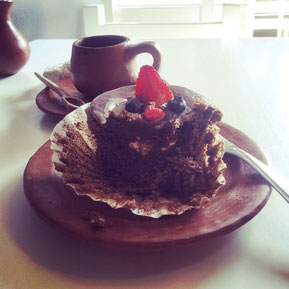 I decided to go back to Oaxaca when the homesickness hit me very badly in Porto Escondido. I needed to do normal things and ground a bit. That was in February 2015. 
I went back into the hostel "Azul Cielo" in Oaxaca where I already knew some very nice people. I felt a kind of home there. And I love Oaxaca! It is a very nice city.
There I stayed for two weeks, gave Yoga classes at Azul Cielo, did a jewelry course, attended with some friends Ernesto's concert and colored my hair into my real color. All about roots... ;-). 
I could great ground and got new energy. And I had a very open-minding encounter in the streets of Oaxaca "A guy on a bike stopped beside me..."...
Coming home...
I got a very nice welcome when I came back to the hostel Azul Cielo. I really liked the hostel and a lot of people stayed for similar reasons like me. I was thinking that I would stay here for maybe three weeks. In the end I stayed for two.
My Brazilian friend and the nice girl from Madrid were still there. And a new volunteer from France. A very nice and beautiful woman. With her I went later on a trip to Hierve el Agua: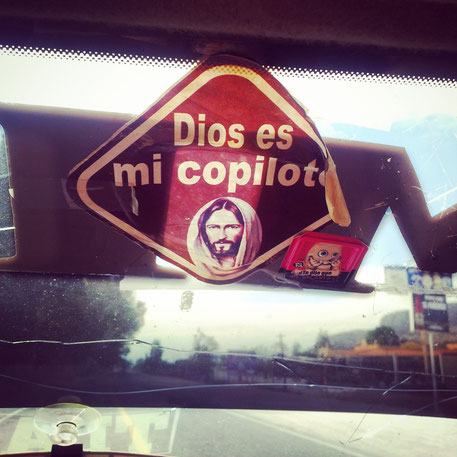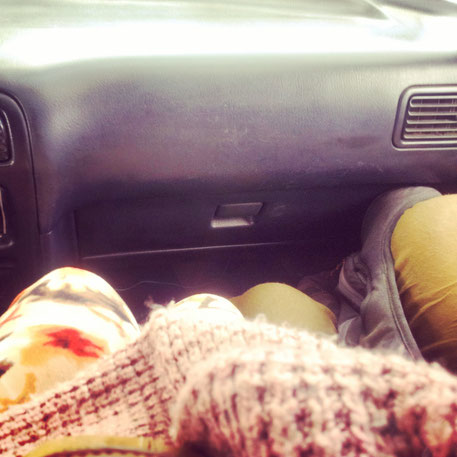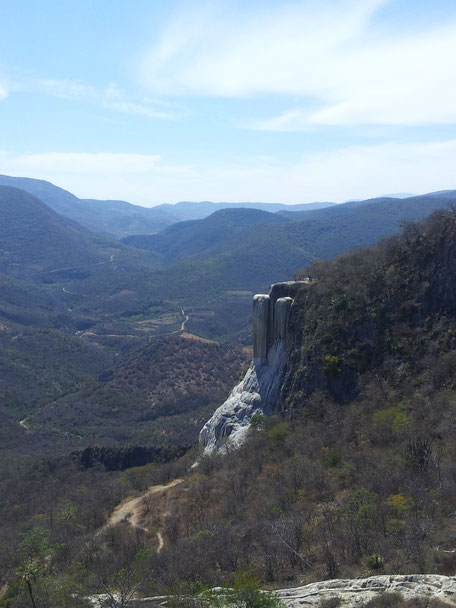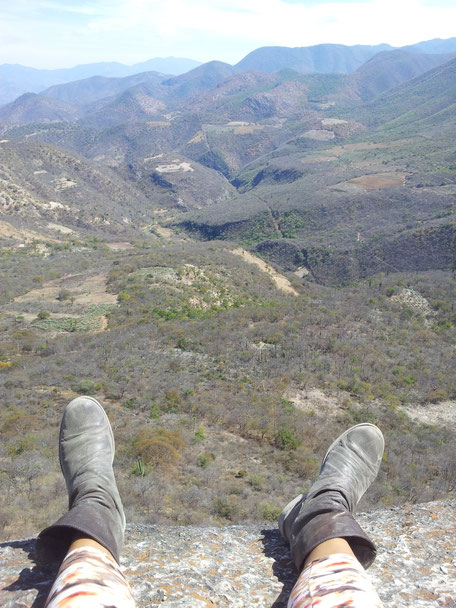 Yoga on the roof and a reunion
During my stay I offered my friend from Madrid a Yoga class. She spread the word, which I loved, and suddenly around 14 people attended the class! I did almost every day a class on the roof during my stay.
In addition my German friend Anja who I met in Porto Escondido came also and stayed for a couple of days in Oaxaca. We did quite a lot together. With her I met lovely Alma at the market who invited us to her café.
Healing concert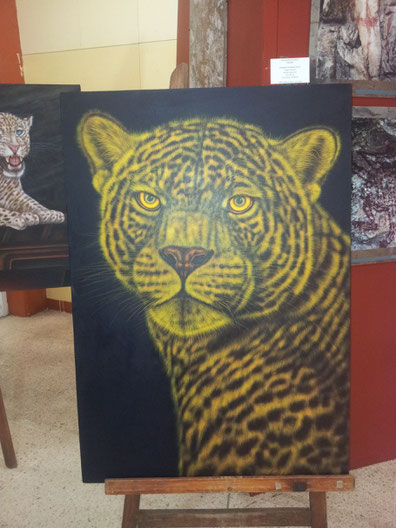 Everyone gives the best they can... Finally I felt it
In between I felt like in a trance. I realized during the concert what it means that everyone gives the best they can to the world. Even it is not that what I like but everyone gives the best they can. 
I knew it in theory before but the connection to my heart was missing. I remember that so well because in my dormitory was a woman who stayed just for a couple of days but I found her quite exhausting. But at the same time I felt bad because I thought that. During the concert suddenly I understood that she gives the best she can and that is very great. Finally I felt the theory. 
I wrote it down during the concert and told later Ernesto about my experience. He told me that the sound during the concert is used for healing in ceremonies. It opens the heart…
Well for sure it did! Thank you so much for that great experience!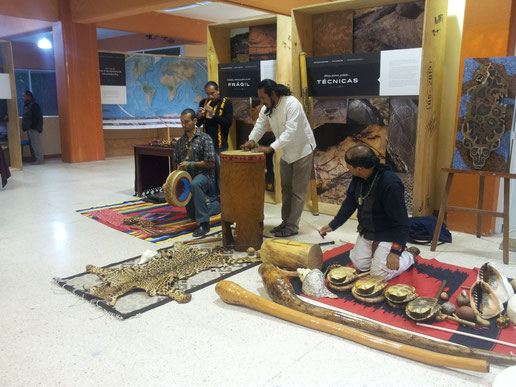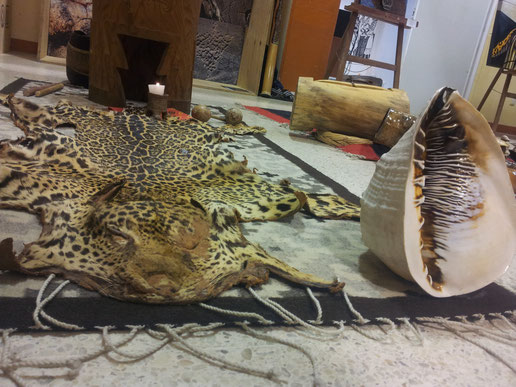 Turning into a Hippie
When I was the first time in Oaxaca I saw a shop offered jewelry courses. In Porto Escondido I decided I would attend one.
When I went there they were very kind. I could not understand much at that time… But I am a visual learner ;-). And I learnt some new vocabulary!
Here are the results. I wrote in the post about attachment to whom I gave that piece: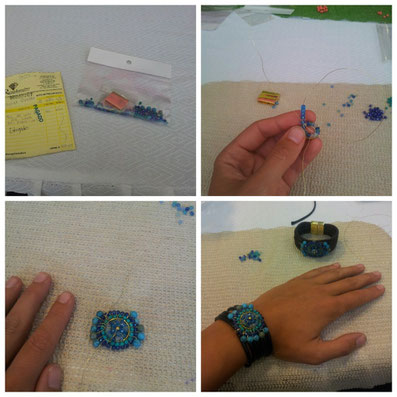 Back to my roots and my attachment to my hair
My natural hair color is very dark. Almost black and I was always very happy about that. In general I am very picky with my hair…
I remember when I was very young and my hairdryer broke. I refused to go to school… Yes… I know! So it was not a big surprise when I started losing a lot of hair three years ago when I had a very stressful stage. I lost so many hairs that I started to get areas with little hair on my head. One of the worst things what could happen to me. Obviously I needed to make a change. It worked and I started to consider some things. It influenced my decision to move abroad as well.
Anyway, my experiences as blonde one were nice but I was fed up with coloring my roots every two months. So I decided to color my hair back into my original one: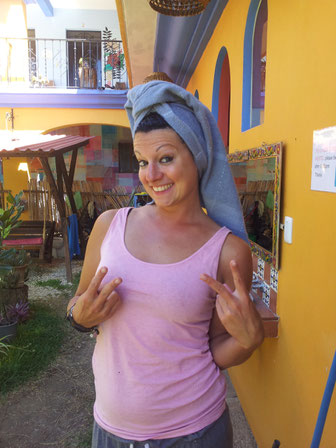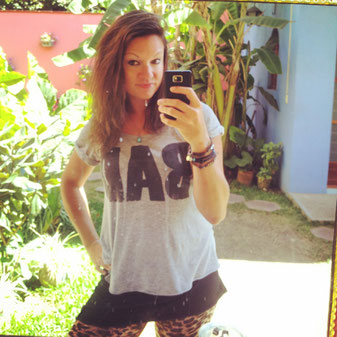 Shining from inside out & the effect of full moon
I was on my way to Alma's café and I felt very balanced and happy. In four days I would go to San Miguel de Allende close to Mexico City.
Suddenly someone stopped on a bike beside me and said something in Spanish to me... (well, obviously all good stories start like that... ;-)).
I turned and saw a very handsome Mexican guy with wild dark hair, beard and very cheeky smile. I understood that he saw me already in the center and now again and for him it was a sign to finally talk to me. He said something that I would look very balanced and he would like my style, I would be very beautiful and he liked my eyes…
I felt great to hear that. Especially after feeling very unbalanced. So my brunette hair was not too bad ;-).
Feeling like a vampire...
He asked me for my phone number and said maybe we could meet for a beer. I thought why not, just a beer... We exchanged phone numbers. When we said goodbye, we hugged each other like it is typical in Mexico. 
And I could smell him… Well, he smelled very good... I felt like a Vampire who's instinct got activated. Ups... Damn it...
Inner Dialog...
When I reached Alma's café she was very happy to see me and we chatted a bit. I connected with the WIFI there and saw that the bike guy already had sent me a message and ask if I had time to meet for a beer in the evening.
My common sense told me "Don't do it. You like someone in Mazatlan, don't you? The bike guy is exactly your type and smells amazing,,," and my heart told me "You just have a beer with him! Enjoy!".
I decided to catch up with him.
Great evening and I understood at least the half
He picked me up on time with his motorcycle in front of my hostel. We went into a bar.
My Spanish was very little at that time. He was very kind and talked to me as if we know each other for years. And he was very interested in what I was doing. It turned out that he traveled through Europe and was even in Cologne (very close to my town Münster).
I could at least understand half of our conversation (even better than in Spain where I understood almost nothing but thanks to Google Translate). But I couldn't proper answer.  Anyway, I had a very nice evening and enjoyed it a lot.
REleasing ride through the full moon night
He brought me later back on his motorcycle to my hostel. I think he broke every traffic rule I know from Germany…
I felt so free in that moment!

And I loved that we were not in a fancy, protected and super clean car.  Not that I want judge people who like that. But also in Germany it was not important for me at all.
I loved that feeling of freedom when we drove with speed through the busy streets of Oaxaca, over speed bumps and between taxis and other cars. I trusted him fully. On the other hand there was no choice ;-). I felt great! 
And by the way the full moon was amazing! I remember that pretty well because it was very impressive. La luna llena…
We shine beauty from inside out
So obviously it is true that we shine beauty from inside out. And obviously my brunette hair was not too bad ;-).
Two days later we met again and went into another bar. It was again very nice and interesting. It was the day before I left Oaxaca.
He is a very interesting, intelligent, handsome and respectful guy. I was curious if our ways will one day cross again… Well, I love Oaxaca and when I would have the chance I would come back for sure.
Well,  two month later I came back to Oaxaca during Semana Santa in April (exactly when I wrote this post)... That story is coming soon.
What comes next?
Read next time about my layovers in San Miguel de Allende and Mexico City before I went to Guatemala.
In San Miguel de Allende I did a Spanish course for one week and stayed in the same family like my American friend who I met in Porto Escondido.
Well, due to I ate anything wrong I in the street, I was knocked out for a couple of days and learnt not that much Spanish… In Mexico City I lost my Debit Card which brought me for a moment out of balance. It showed me what I really feared…
Thank you for reading my story! I really appreciate it.