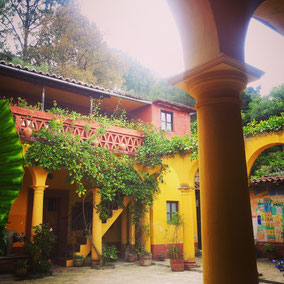 From 6th of April to 1 of May 2015: 
I arrived in the early morning in San Cristobal de las Casas where I had already a workaway place in a hostel. 
Back in San Cris I stayed exactly one night at my workaway place and left it on the next morning due to an interesting night… and found immediately another place. This great "coincidence" brought me together with a very lovely and brave girl from Russia. 
And guess what… The first person I bumped into was my loco Mayan warrior! I had a crazy time with him :-). 
And in San Cris I decided to get something which will always remind me of Mexico and especially Oaxaca…
Una noche con amor… but not for me!
During my journey in the bus from Oaxaca to San Cristobal I was thinking a lot about my Mexican friend in Oaxaca. From a Buddhist perspective I love him, without the idea of having a relationship or any attachment. I wish him happy and well. It me made cry when I read his reaction to my story I've dedicated to my Spanish teacher.

However, almost everything was fine when I arrived at my workaway place in San Cristobal de las Casas. Ok, it was weird that I should share a tiny room with a male volunteer who was in his 40is and seemed to be a bit desperate in sense of women.
I wrote the following text on the next morning in my diary:
"I'm sitting at the bus station and my job is to hand out flyers to sleepy travelers and annoy them. Yes, I hate it!!! It wasn't written in their profile on workaway at all.
Beside me is sitting my ex-roommate who smells like thousands drunken sailors.
Yesterday evening he woke me up and asked me with a strange view how I would be. 
I found it very weird and told him he should buzz off "vete!". But I couldn't proper sleep anymore. Around 12pm he came back with an obese Swedish girl and they started to make… well love in the same room where I was! How disrespectful and stupid… Or desperate?! 
Now he is sitting here and smells badly. Compassion…
I'm in two minds about it. How could someone feel who doesn't have a place to go, doesn't have aims, reached a certain age and has no clue where he could go…?"
"I go!" Lucky late reply
I checked my emails in the same morning and saw another workaway place replied to one of my requests I had sent a couple of weeks ago.They apologized for the late response and asked me if I was still interested.
I wrote back that I could come around right now. So I came, I liked the place, the owner was interesting and I decided I stay! In less than two hours I had a new workaway place and felt pretty good! It was the just opened Posada Mirador.
It was the beginning of funny and interesting 3 weeks with my lovely Russian chica!
Passion a la Mayan
During my first stopover in San Cristobal I met someone who is very loco and una buena onda. He lived with his 3 brothers together. He is a very handsome or rather beautiful and also a very crazy lovely guy. Due to our talks I wrote my post about the American Beauty Effect. It was a huge eyeopener for me...
I thought I wouldn't meet him again when I left San Cris to visit Oaxaca. But he was actually the first person I bumped into when I came back! Coincidence?! For sure not, since I do not believe in coincidences anymore.
When I saw him again, he was painted in his Mayan warrior makeup and greeted me very passionate with a kiss. I was so baffled and didn't know what to say. He asked me for my phone number. I have to say that I sneaked more or less away on the evening when we first met. I not reckoned we would see each again.
Ready to party?! Not really... I want to be alone...
The following days he and I wrote a bit, but I always refused to go out with him for party when he asked me. I was not in the mood during my first week to go anywhere.
I was actually not that happy.
I feared to go back to Europe and also in San Cris I felt lonely even I was surrounded by people. I had some options to meet other people due to two nice girls I met in Oaxaca were there. 
But I didn't want to see anyone and just closed myself. 
Well I spoke with my lovely Russian chica a lot and felt understood.
Ok… I give up and I try to be fearlessly open
One day I decided to give up and let just go and stop closing myself which obviously didn't help at all and made me just unhappy.
So I went out with my volunteer colleagues and wrote to my Mayan warrior we could catch up. 
I said to my Russian friend that my Mayan friend would be very nice but also very crazy :-).
He wrote to me he would come. A couple of minutes later I read: "Puedo verte" which sounded quite scary. 
I looked around in the bar but couldn't see him. 
"I can see you..."
Suddenly, a dark guy with long black hair, leather jacket and colorful Mayan makeup hugged me very passionate and gave me a long kiss. 
My Russian friend and another lovely girl from Greece just said "That is awesome!"
The word "awesome" they knew I hate due to it's overuse. But in this case it was fine ;-)
Un tiempo loco y bueno juntos
Before I left San Cris we spent quite a lot time together. He is really a great guy and has his heart at the right place. 
Even he lives also quite extreme...
One day we had a date but he didn't show up. That never happened before so I was worried.
He wrote me two days later that he was very drunk and couldn't come. I said that I was worried. 
Later it turned out he slept that night in the street due to he was too drunken to come home… Not the best place especially not in Mexico. Well, that is also pretty much him. Living and loving extremely.
About destroying and creating
The evening when I became aware of the American Beauty Effect on the roof top, he said to me: "Jeanine! En serio, te quiero!". That was also pretty much him. Living in the moment. He said it later again when we were on our way home from a party. 
I asked him why he would love me. 
He said he would normally be right now in a bar and fight with someone but with me he would be calm and balanced. He said he would destroy and I would create…
Keep in touch
We stayed for a while in contact. Even if I already lived in Spain in Barcelona. 
He sent me nice voice messages. I liked listen to his clear, deep and melodic voice a lot and his lovely messages. It made me always very happy to listen to his voice and words. 
Speaking out things from heart
Yes, he might be the one who destroys, but he is also the one who speaks things out from his heart. Whereas I create things, but fear to tell things from my heart because I fear to destroy…
Well I'm getting better! 
A couple of months ago (I lived already in Spain) I received a message on WhatsApp from him, but I saw he never got mine. He wasn't online anymore on Whatsapp for more than a month. I was very worried and hoped he was fine.
Well… One month later I receive a very lovely voice message from him in which he told me he lost his phone and that he still thinks of me and asked me how I am.
I was very touched by that. I mean the fact that someone sent me after such a long period since we have seen last time such a lovely message. Wow, he was still thinking of me! I was so happy and touched to get his message.
Yes, he has his heart at the right place and I love him for being like he is. Without having the idea of having a relationship or any attachment...

How I met a muy buena onda de Russia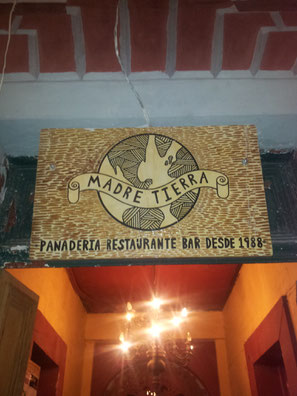 My new workaway place was a family like hostel. It was not really a hostel. The rooms where very comfortable, with normal beds and the atmosphere in general was very calm.
My job was being the receptionist and (due to lack of staff) temporary the housekeeper. But actually I enjoy housekeeping! I love to make it comfortable for the guests and make them feel home in a clean room and bathroom. And when I finish a room it is done. In my former job I never had this feeling. I was always thinking about an ongoing project and unsolved cases etc.
I shared the position with another volunteer. One day I worked on the other she: Julia. 
A very lovely girl from Russia who was in the same age like me, very chatty, cute and intelligent. With her heart amon her tongue like we use to say in Ruhrpott. I  really love her.
When I first saw her I thought she would be Spanish due to her accent when she spoke Spanish and her look. She loved Spain, like me, and lived for a while in Malaga in Andalusia.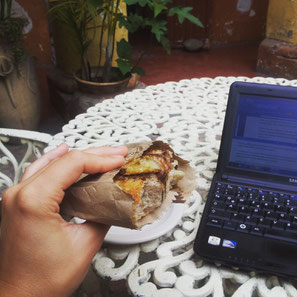 Together in Malaga
It turned out we were at the same time in Malaga! Well… there aren't coincidences! I spent a week in Malaga so it was very likely our ways crossed there due to Malaga is quite small.
Julia helped me a lot with practicing my Spanish. I gave her Yoga and meditation classes. We talked every evening a lot with a glass of wine or beer. Yes, I really enjoyed our talks and I'm very happy that I have met her.
Julia and I left later together. She decided at quite spontaneous. Therefore we went together in the jungle.
Great inspiration
She inspired me a lot! She was more fearless than I am.
Due to she ran out of money she found a place to sleep in a hammock close to the beach for 50 pesos per night and lived just from avocados and papayas for a couple of weeks to save some money.
I always fear to be in such a situation. But actually there will be always a solution like it brought Julia to San Cristobal. Maybe I need to experience this once to see what is really behind it…?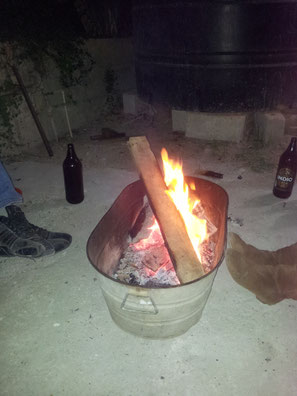 A great reminder of my time in Mexico
At our workaway place there were beside me and Julia some other volunteers like a crazy girl from Holland who went almost every day to a tattoo shop la rana roja. Her body was already covered with lots of tattoos. 
I actually thought I would have enough tattoos but like it is with tattoos: when you started you want more…
So I decided to get one more and I knew pretty well what I wanted. I went to the tattoo shop and made an appointment.
Time management a la Mexico...
When I had my appointment I was already 15 minutes too late. In the end I took a taxi and came 30 minutes too late due to I could remember anymore where it was. But…
It turned out it was closed! 
I waited and 15 minutes later came on a scooter my tattoo artist who just asked if we couldn't start later "No! Yo lo quiero ahora! Mi amiga esta trabajando para mi ahora."
"Quiero un cerveca!"
In total we started more than an hour later. 
After 3 hours I was in such pain that I was very close to just give up… I bite my arm but it didn't help. 
My tattoo artist just said "Lo puedes!". No… I couldn't and asked him for a beer.
He sent his receptionist to buy one and I literally dropped it, got drunk and we could continue. After 5 hours in total it was done!
And I'm very happy about the result!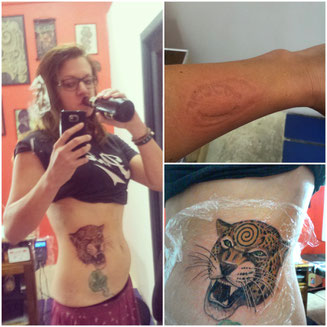 What comes next?
Read next time about my journey through the stunning jungle in Palenque, my third reunion with my French girl I met in Oaxaca and San Cris. 
We both went together to beautiful Bacalar before I finally traveled to Cancun where bed bugs attacked me and I practiced once again to be fearlessly open on my last evening in Mexico.
Lots of love and thank you very much for reading my story! I really appreciate it.