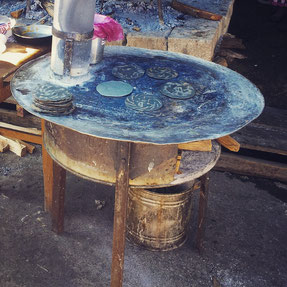 After Mexico City I was from the 20 of Feb to the 24 of Mar 2015 in Guatemala. There I had a reunion with my friend Rossy who I met in Puebla. I stayed one night in her family.
In Xela I took for 4 weeks Spanish classes and I lived with the family who owns the school. Thanks to my great teacher Francis I learnt a lot in that time. Therefore I dedicated my first story in Spanish to her. 
I met very nice people in Xela like a funny German guy. In Antigua I met a very cute café owner with Irish roots, infected with the travel bug  and a heart for philosophy.
And I changed all my plans. I wanted to go to a meditation in silence for 11 days but some things showed me I was obviously not ready yet…
Reunion in Guatemala City and an interesting talk with a rich guy about the golden cage…
My friend Rossy offered me to stay with her family when I come to Guatemala City. She was the one I met in Puebla. When I arrived at the airport she and her sister picked me up. So lovely!
It was great to see her again and she looked great. Obviously she felt great to be with her family after long time living in the USA. 
In the evening we went out with a friend of hers to a beautiful but quite expensive place. I paid for one beer around 6 EUR. 
By the way: 
Cities in Guatemala are categorized in so-called zonas (zona 1, 2… etc). I felt a bit like in a future movie: "you enter now zona 1…". And the most of the cars have black-tinted windows. Someone told me it would be for security reasons. Aha…
Living in the golden cage
However, we had some beer together and in one bar were a small group of Americans and Guatemaltecos. Obviously they had quite a lot of money. They offered us to sit with them and invited us for some drinks. Apart from they asked me three times where I would come from – because of their drunkenness – it was very easy going. 
One of the Guatemaltecos asked me about what I would do etc. I told him my story. That seemed to let him think. He told me that he would have lots of money at the moment and had almost no idea what to do with that. Well, he owned his money by growing monocultures for flower bouquets. He told me he would support the local jail because lots of people are innocent in it but cannot offer a proper lawyer. Therefore he tried to help with his money. He also told me that he would fear everyday someone could kill him. Therefore he drove a bulled-proofed car and had a bodyguard. He could never do what I do but he would like to travel as well… Well, I was very stunned by his open words, even he was drunk. He seems to live in a golden cage… 
I am thankful talk. It gave me a short inside in a different world which looked from outside different. 
Xela – from my arrival to my last day
Normally a shuttle service should pick me up in Guatemala City and bring me to me host family in Xela. That was what my new workaway place told me. But it the shuttle did not appear. I phoned the school and it turned out they forgot to book it. 
Anyway, I took a local bus which was actually ten times cheaper. Rossy`s family helped me to organize it. I checked quickly online hostels in Xela and wrote names down.
The bus got a flat tired during the journey. It exploded with a lot sound. Fortunately, it happened very close to a mechanic store and they changed the tire in 30 min. 
In Xela I found very easy a hostel and phoned again the school. 20 min later the principal appeared apologized and told me that on the next day he would bring me to my family which was actually his family. He was very kind and lived with his lovely wife, three kids (boy 18, girl 14 and girl 2) and their maid. I had my own room.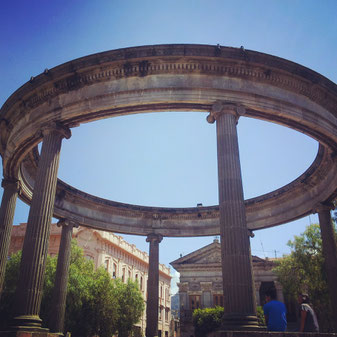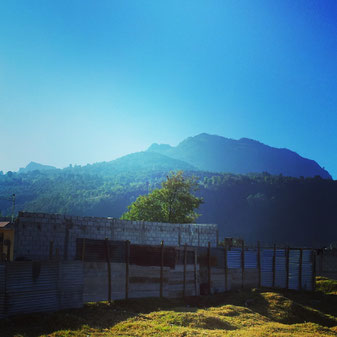 Food was included but actually I realized that I would love to have my own kitchen and prepare my own food. Not that I did not like it there but it gives me more independency… It was a bit strange that everything was organized by the maid a young Guatemalteco girl. 

Volunteering and Spanish classes
The school, where I had my Spanish classes and volunteered as well, was for kids from poor families and in the afternoon they offered help with homework for very young kids. Beside my Spanish classes I gave twice a week Yoga classes for the teens and helped also with the young kids.
Impressive for me was that the kids were very eagerly and ambitious to learn. For example my Yoga classes where optional. The first class was attended by eight teens. With help of my lovely teacher Francis who taught me the vocabulary and also with the help of the teens I could give the class in my little Spanish I had at that time. When I said "Namaste y muchas gracias" I rather wanted to scream "Thanks God I made it!". I was not really happy with my results. But… The second class was attended by fourteen teens and even four boys! Well… For that it cannot be that bad…
I used my classes to explain a bit about the roots of Yoga, the language Sanskrit and the importance of drinking water.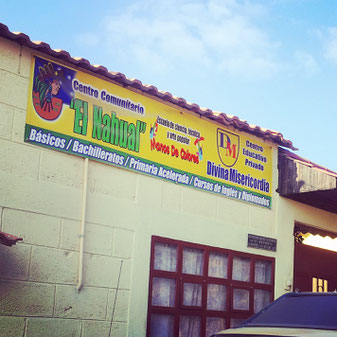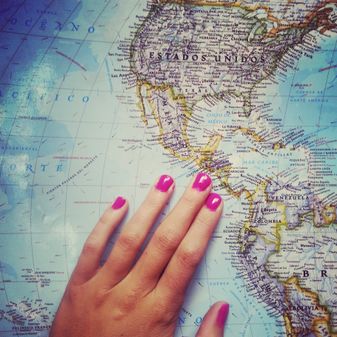 Working with the little children was fun as well. They were very curious and open. One girl asked me of my nose piercing would hurt. So cute! The girls played very good basketball! I was impressed and lost…
Honestly, I learnt through them more than they probably through me. I mean their openness, their ambitiousness to learn and how they act among each other. Very fair and everything they had they shared. There was no "No! That is mine!"…
My last day in Xela
I wrote the following in my diary on my last evening in Xela. It is almost the same. It put all together what I experienced and felt there. I wrote in German and this is my translation. I was waiting for a friend or rather he said he would maybe appear. For me either way was ok. I enjoyed my evening: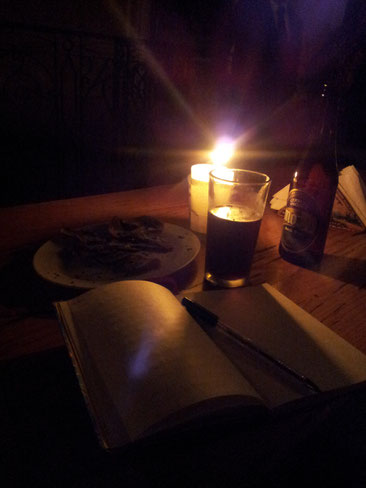 "My last evening in Xela. I'm sitting in a bar with my beer and nachos and think back about the last weeks. While I'm eating the nachos with my hands I have to think about how much I love it. I mean the simplicity. I do not like fancy and expensive restaurants in which they create an atmosphere. I love it authentic and simple.
I love the food in the street and in authentic places. It was interesting to see the contrast with the Guatemalteco who belonged to the high class. We did not eat together in the street. I never liked it to eat in expensive places in which I have the feeling it would be necessary to behave very good.
I was there in my former life with my friend Anika but we just went there because the food was good and not that expensive like it seemed and it was funny to watch the people there who were very stiff.
Ah well, the Guatemalteco… He is very kind, handsome, intelligent and generous but not my type. No passion, very controlled and obviously very jealous. At least I come to this conclusion due to his reaction when I talked to my German friend. 
I really enjoyed the afternoon with my German friend. We had tons of laughter. It was a long time ago I could talk about philosophy with someone and laugh loud. My Guatemalteco friend feared someone could hit his car. I do not understand why he has it? Well, I can understand. With my other very young Guatemalteco friend I drove through the streets on his motorcycle without a helmet. Similar with my friend in Oaxaca. Spontaneous and freedom. Yes, I love it. I talked with my German friend about that money cannot impress me. Ups… I just see that I maybe do not have enough money with me to pay the bill for my beer and nachos… I hope it is enough. Well, I was talking about "money is not important"… Ehm. But well, just because a guy has money does not mean he is more interesting. But I have to say that my Guatemalteco friend is really a good guy. He has a foundation to protect children and is a professor for Human Rights.
I saw him today on my last day here. By coincidence. I do not believe in coincidences. It was meant to be. He told me that I forgot my "BAD"-T-shirt at his place. That upset me because it was my favorite one. It was full of holes and I tried a couple of times to fix it and of course after the next laundry services it would be worse… It accompanied me from the beginning on of my journey.
Ah great! I had enough money with me. Hmmm, I think my friend won't come anymore. After my beer I'm going home and will take the shuttle to Antigua in the morning."
Antigua and I changed my plans
I took very early in the morning the shuttle to Antigua. All went well until after one hour driving the bus driver got a phone call that he forgot people in Xela. Therefore he had to turn and picked them up after he found the street… Well not problem for me because I had no time pressure. The driver brought me to my hostel and even carried my heavy luggage on his back. My hostel was Villa Estela. Very nice and quiet place where I did Yoga on the roof top.

Antigua should just be a stopover before I would attend a meditation in silence for 11 days. But it turned out it was very difficult to go there. I phoned the place and wrote to them but it still sounded not very easy. Therefore I decided after 3 days of figuring out how to go there, that I will go back to Mexico and will attend the meditation another time. I felt it was not good to force anything. Also maybe it was not the best idea to attend a meditation in silence after a 4 weeks Spanish course if I really want to learn it…

Irish feeling and philosophic talks
I was exploring Antigua and still had my plan to go to the meditation when I found a very beautiful café in Antigua: Laberinto Café. When I saw the barista – who turned out to be the owner – I thought "que guapo". We talked a bit and I told him my story. He told me he would have Irish roots. 
I came a couple of days back to his café and we chatted a bit. One day before I left I was a bit down. I felt a bit confused and hometownless. I told him about it. For some reason I thought he would understand me. Well, he was very kind and said very nice things which helped me a lot. I cannot exactly remember his words but I felt pretty much better. 
A very interesting and intelligent guy who has very nice thoughts. I love to talk about deeper topics with someone. That apart from simplicity is something I appreciate.
Sometimes just let memories be memories...
I was still in contact with my friend in Mazatlan. Well, the feeling of falling in love cooled slowly down after I left Mazatlan. We wrote less and less to each other. I wanted to Skype with him but I felt like I was the only person who wanted that. Maybe I just wanted it for checking out how my Spanish is now. He is a good guy for sure. It sounds strange but I hoped he would write me that he got to know to someone he would like. I wanted he is happy and I saw I was not ready for something serious or rather he was not the one.
One evening in Antigua we finally skyped. We talked in Spanish as if it was the most normal thing in the world. I asked:"Qué piensas sobre mi Espanol?!" He said:"Si, está bien…" I said:"Bueno, me parece es impressionate en comparasíon que antes…" I was disappointed about his reaction. We had not much to say. I said I could visit him in Mexico City when I go to Oaxaca. He said for sure but in my opinion not very eagerly. I think I just waited for a reaction like that. I wanted to have a reason to end it. I had a bad concious anyway...
One day later I wrote to him I would like to keep the nice time we had in Mazatlan in good memory and therefore it would be better we let it in good memory. His answer seemed to miror the same what I thought. I honestly wish him all the best.

I felt better. I felt free again...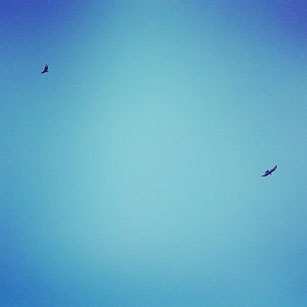 What comes next?
I took a shuttle back to Mexico to San Cristóbal de las Casas where I caught up with a friend of mine I met in Oaxaca: the French beautiful lady. 
After I made my decision to come back to Mexico and will visit again Oaxaca I received a message from my friend in Oaxaca who said he needed to think of me. I wrote I would come back to Mexico. He wrote with a smile I should come to Oaxaca… Well, he first thought I would kid him when I wrote I would come back… 
In San Cristóbal I got to know to some Mayan warriors and the force of Mezcal… 
Thank you for reading my story!