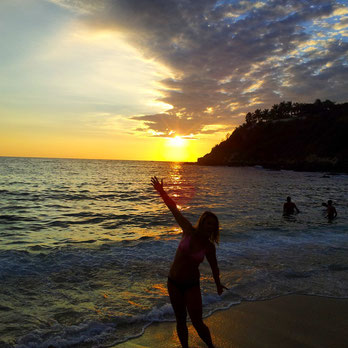 I took a bus from Mazatlan to Puebla where I stayed for 4 days, met a very nice girl from Guatemala and did CouchSurfing. That was mid-January 2015. Yes, I'm a bit ahead with my posts...
My main destination was Oaxaca. And my friends in Baja California were right: It is very Mexican and the people very nice. I loved it. But I thought I had to go to Mazunte because everyone told me it would be great there.
I made it until Porto Escondido. There I got the overwhelming feeling of homesickness… It was high time for grounding...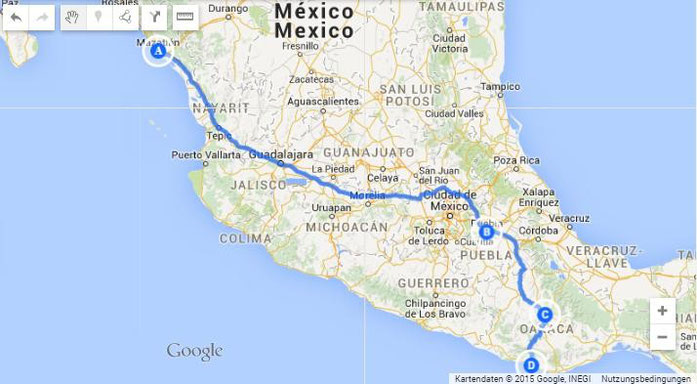 Puebla - city of 365 churches and taxi "seguros"
I arrived in Puebla after 12 hours by bus from Mazatlan in the early morning. The first thing which was quite different from Baja California and Mazatlan was: "taxi seguro". Hmmm, I didn't feel "seguro" at all.
By the way Puebla has 365 (!) churches. For every day another church…
I took a "taxi seguro" to my hostel. I thought I would not do much today because I was very tired. 
In my room I met a very nice girl with the name Rossi. She lived for a while in the USA and has her roots in Guatemala. So I changed my plans: I could sleep later!
We did quite a lot therefore that I planned to do nothing...
It turned out Rossi and I were in the same age. She also quit her job and was traveling  to let go of things. I liked her a lot. During my stay in Puebla we spent all time together. 
Honestly I felt not very safe in Puebla. Rossi and I went to the market and it was crazy how the guys where starring and whistling at us. I'm not a dog. My advantage was I was at least one head taller than the most of them.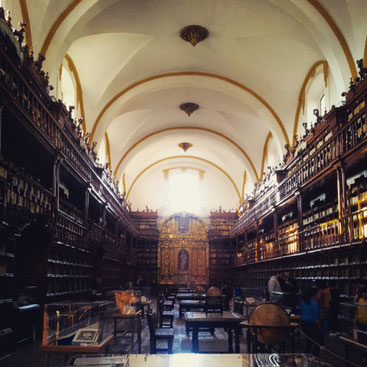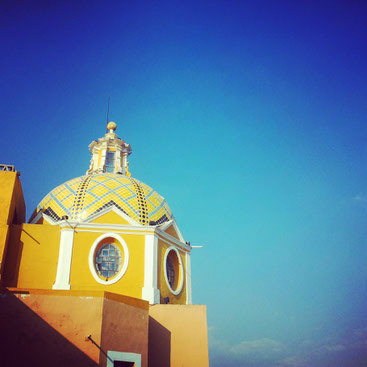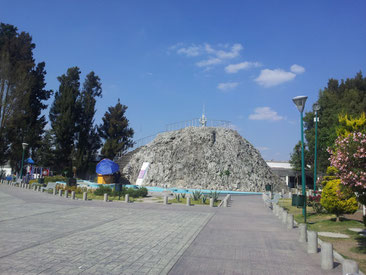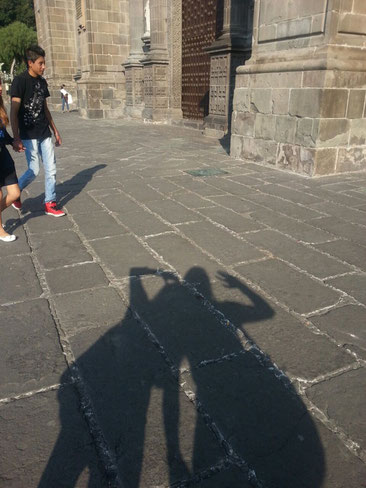 Couchsurfing at a soul - Alma
I slept two nights in my hostel and two at my CouchSurfing place. The nice girl sent me her address and I took a "taxi seguro" to her place.
Well, it turned out there where many bells without a name on it… I had her phone number but not a SIM card…
So I just asked an elder man on the street and explained to him in my little Spanish my situation and asked if he could call my friend. He did!
The girl with the nice name Alma - which means soul in Spanish - appeared and welcomed me very hearty. At her place where 4(!) CouchSurfer with me.
She just loved to have people around her. She was mid twenty years old and very cute.
Two days later I took the bus to Oaxaca. I was very excited to go there due to what my friends told me about.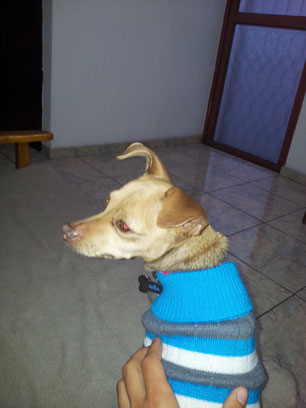 Oaxaca - love at the first sight...
I arrived in the early morning in Oaxaca. There I stayed in the hostel Azul Cielo where I felt very comfortable. I took a taxi to it. A normal one and I felt very relaxed…

Feeling home at Azul Cielo
Azul Cielo is one hostel that attracts people who want to relax and feel a bit like home. Of course the soul of the hostel are the people who work there and the guests.
At that time were very nice people working there: a very funny and kind guy from Brazil who could also speak German because he lived there for a while and a very cute and hearty girl from Madrid. And when I came back (yes I did) a very beautiful soul from France. All of them were workawayer like me.
Very nice travelers just stayed at that nice place. Like an interesting girl from California and another one from Washington, an Indian-Spanish guy, a German guy… And many others. I loved it there.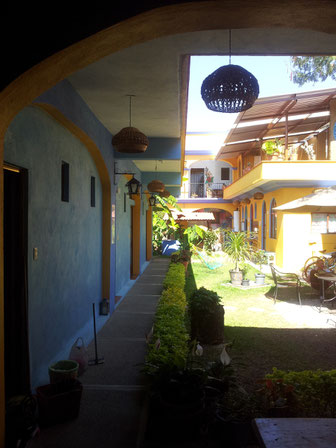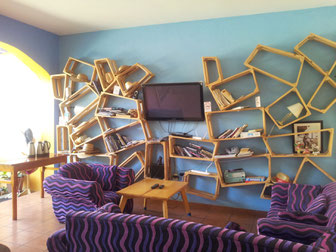 Why I love Oaxaca
If someone asks me what I love about Oaxaca it will be: It feels real. 
Do not expect fancy things like a beach or a big party scene there. But if you look for a warm and kind atmosphere you will be at the right place. Here I felt well and safe. 
And the people just talk to me in Spanish and nobody asked me where I am from. In general they are very kind. I loved it! My friends in Baja California were absolutely right.
They also mentioned I had to see Mazunte, Zipolite etc. Therefore after three days I took a bus to Porto Escondido. 
Mindset attraction... once again
When I was looking for a notebook to write some ideas about my seminars down I bumped into a friendly guy in a bookstore.
We chatted a bit. His name was Ernesto. It turned out that he was an artist and also gave seminars based on Mayan healing ceremonies (I hope I describe it right…).
I thought that was a sign and asked him to give me his contact dates. Just in case...

Feeling of homesickness
I arrived at 7am in Porto Escondido. My hostel opened at 8am. Therefore I had a small breakfast in a café and went to my hostel. There "welcomed" me a girl from England.
Well "welcomed" is relative… She seemed to be quite annoyed and I had the feeling I had to say sorry that I wanted to stay there.
I remembered my Buddhist teachings and told myself that I should have compassion for her because who knows what happened to her etc. You never know where someone is on their journey. That I learned also from my Yoga teacher Joy. But it was kind of a challenge. My American friend (later more) just said:"She is a bitch." Well, another point of view ;-). But not quite mine. 
Nice german girls
 Anyway, I met immediately two nice girls from Germany and we went together to the beach. One was from Stuttgart with the lovely name Anja and the other one I cannot remember. But I was impressed because she was just 18 years old, traveled alone and was very mature for her age.
What I really needed...
Despite the beautiful beach and sun I felt suddenly very bad and homesick. It hit me very hard. 
I just wanted to be on my own. My hostel was not the best place for that…
The most of the people were short term traveler and just wanted to have fun. My homesickness was something which developed slowly and broke out now. 
It does not matter where you are and what is surround you when you feel disconnected from the world around you…
In reality I wished to have a bit more of normality and structure… That what I had a bit too much in Germany. But after a year of traveling it because stressful to chase for the best places to see and go etc. Now I could understand Omar and Raquel quite good…
"hometownless" and why it would be the same in Germany
Of course it is great to travel, met lots of interesting people and see nice places. But for me it was time for grounding. I felt "hometownless". Insa – one of my best friends – told me I should come back to Germany.
But honestly that would not make a big difference. In Germany my friends and I were very busy and did not see each other very often. Everyone had their own daily business. That is ok. So it would not be an option. 
I wished I have a place where I would feel like home, can ground myself and build some roots. A place where I can come and go… I thought about Spain, again…
I had already my flight to Guatemala in 4 weeks. There I would take Spanish lessons and volunteer with children from poor families. I had the feeling I needed to go to Guatemala.
Time for a DECISION
After I talked to my friend Anja I decided not to travel to Mazunte and Zipolite. I decided I go back to Oaxaca, do "normal" things and ground myself a bit. Also I wanted to work on a website I am planning.
It is also interesting that really everyone is on their journey and we never know where they are and what let them act. Anja was also in two minds about her way. We talked about that and for me it sounded she knows very good what she wants to do. Lovely girl,
Intercultural exchange and a special Yoga class
Anja arrived with an American guy from Washington. He was in my dormitory. He had a prosthesis due to a bomb in Iraq hit him and he lost the half of his left leg. Very tough and traumatically experience for sure. Therefore he was very confident, positive and planned to write a book about his story. He wanted to motivate people with that. I am sure he will succeed. A very nice guy.
You are beautiful but not very friendly
Anyway, he was also very straight forward. He said to me:"You didn't talk to me. I was talking to that guy in our hostel room. He said you was beautiful but not very friendly. I told him he needed to talk about something you are interested in like Yoga."
I:"Well, I found you guys a bit too much American. For me it needs some steps in between when I get to know to someone. I like to decide on my own who comes into my circle."
I also explained to him that I felt very homesick and needed to be on my own.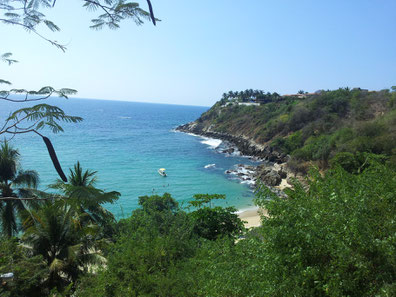 We talked about meditation and Yoga etc. It was interesting to talk to him. He had to share a lot about business etc. which came exactly at the right time. He gave me lots of advice.
I offered him and Anja a Yoga class. It was quite challenging for me to create a suitable sequence but it worked out. And it turned out he could do more than I reckoned with.
Meditation for everybody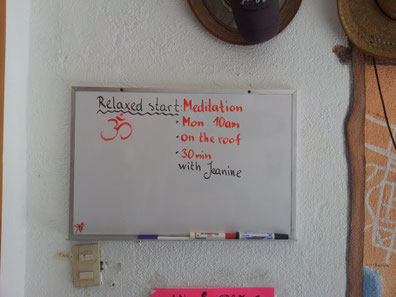 I also gave a meditation class at the hostel for the guests. After I gave the other day a class to Anja she spread the word to others how nice it was. Therefore I wrote on the board that I offer a class for everyone in the morning. Around 10 people attended it and they seemed to be happy and relaxed.

That was a sign!!!
Guess what?! I was with Anja at the beach on my last day when I suddenly saw a familiar face: Ernesto, the healer from Oaxaca!
What a coincidence! I mean there are many beaches in Porto Escondido. He was with another friend there. I told them I would go back to Oaxaca. He invited Anja and me to a concert which would be held in Oaxaca in a couple of days. Great!
What comes next?!
Read next time about my second stay in Oaxaca where I did "normal" things and grounded myself, attended Ernesto's very impressive and meditative concert, discovered the surroundings of Oaxaca and went literally back to my roots in sense of my hair color.
So I got slowly back in balance and obviously it was visible for others because a very nice experience during my walk through the city…And I got to know to lovely Alma!