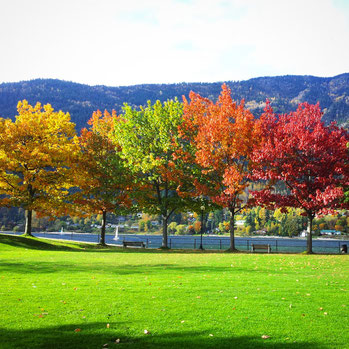 After I left my wwoofing place in the mountains in Nelson a bit earlier than I planned I went back into the hostel Dancing Bear. 
My Yoga Teacher Training would start a couple of days later. So I had some time for myself and enjoyed the Indian Summer in Nelson.
In the hostel I met very nice people like 67 years old power lady Margret who took me with her to her friends concert.  I also used the time to go to some Yoga classes at my Yoga school and knew  immediately that my decision to go there was absolutely right!

Indian Summer in Nelson
I always wanted to experience Indian Summer in Canada. I just heart the name and I remember the advertisement of the perfume with name Indian Summer. Gabriela Sabatini promoted it in the 90thies. I liked it and the nice images in the advertisement. Very colorful and warm.

So I got the chance to see Indian Summer and experience it. It was very beautiful, Here are some impressions about it before the leaves fall down and the winter started.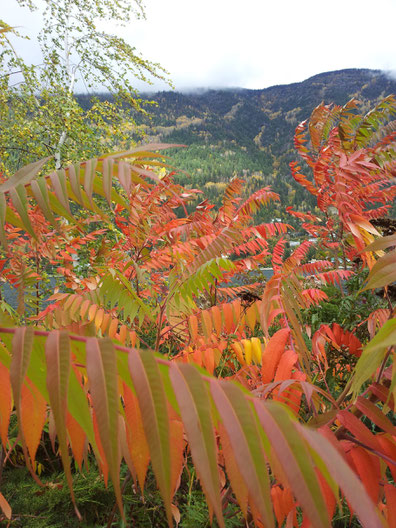 Yes, It was the right decision
Actually it was great that I left my wwoofing place earlier not even in sense I felt better. I also could use the time to get to know to my Yoga school. I went there already when I came to Nelson and had a nice chat with Joy the owner. The name of my Yoga school is Shanti Yoga.

The first result at my Google search
I found it when I was looking for a Yoga studio in Nelson which offers Teacher Training. It was the first result on Google and after a very nice phone call with Joy I signed up. That was when I changed all my plans after I took myself back and listen to what I really want.
Hearty welcome again
So I went to three classes and I felt so welcome and comfortable there. Joy greeted me with a very nice hug which felt great. That what I needed after the tension in the last weeks. Of course not everything was bad at the wwoofing place but I felt still not good and feared to step into the next strange thing.
I really looked forward to start my training. I was convinced that I will learn a lot especially from Joy. And I was right... I will write about my Yoga Teacher Training soon.
Power lady and The Jaybirds
One morning in my hostel a elder lady with long grey hair, Indian style earrings and very awake eyes joint me. We started to have small talk about weather etc. I had the feeling I needed to talk about the last weeks and that I was very relieved now and looked forward to start my Yoga Teacher Training.

African music
That was Margret a 67 years old power lady who lived on an island close to Vancouver Island. She was in Nelson for a music workshop and for her friends concert. Margret told me that she also loves to travel. In summer she was in Africa where she attended a music workshop and learnt an African language there. I was very impressed! 
The 3 precious jewels and the 7 principles of Yin-Yang
Than she told me about the 3 precious jewels in Buddhism and the 7 principles of Yin-Yang which she wrote down for me in my journal:
VIP list and free ticket

We talked a bit about her friends concert. She told me that it would be on the next evening and there were still tickets.
I went in the afternoon to the place where they sold the tickets to check out the prices. But I found 20 CAD a bit much and didn't buy a ticket.  On the next day I sat in the living room at the hostel and did some things online when Margret came in.
She came to me and said:"Ah! I was looking for you! I'm on the VIP list for the concert. My friends put me in. So you can have my ticket that I bought. It is free." My eyes widen and I thanked her a lot. Due to the concert would start in 30 min I run down the stairs to my room, changed clothes and went with Margret to the concert. 
The Jaybirds. It was very nice! It was a Folklore style with banjo, guitar etc. The audience was a bit older. The concert was great! And power lady Margret was cheering her friends and yelled "WHOOW!" and whistled. She didn't care what the other people were thinking. Yes, I enjoyed it a lot to be at this concert and with Margret. She was also very interested in my Yoga Teacher Training and found it very nice that I do that.
We said Goodbye at this evening because Margret had to take the bus very early in the mornings back to Vancouver and to her home. I was very happy to meet her. Such a nice person.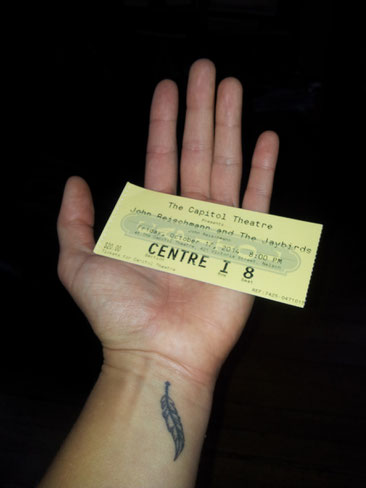 Funny guys from Scotland and why I know I changed...
On my last evening in my hostel I met two funny guys from Scotland. Actually I forgot their name.They were traveling through Canada and due to it was very expensive for them they planned to go to Argentina by car! Though plan.

One of the guys was very much my type: funny, self-confident, said what he thought. Until Pierre a nice crazy guy from Quebec joint us...
Talkative crazy nice guy 
Pierre was someone who just talked to everyone and just talked about everything. He didn't care if you were doing something on the computer or what ever he just talked to you. That could sometimes be a bit exhausting but he was very kind as well.
So I and some others and the Scots were sitting together when Pierre came in. The attractive Scot guy reacted very mean when he saw Pierre and was obviously not amused. 
I just said that Pierre was actually a funny crazy guy who just want to talk and to be social. Pierre offered everyone to try his honey he bought from the market. The attractive Scot guy refused. His friend tried it. The honey was delicous!
My own change
In that moment the attractive Scot wasn't my type anymore. But I saw that month ago - before I traveled - I would probably react the same like the attractive Scot guy. So it was a good example for me.  Maybe the Scot was just afraid and closed. Anyway, it great to watch myself in that situation and see how I changed so far.

Ready for my 5 weeks nonstop Yoga Teacher Training!
After spending some nice days in my hostel I was ready for my new adventure: 5 weeks 200 hour Yoga Teacher Training at Shanti Yoga in Nelson. I lived together with two lovely girls in a beautiful accommodation which had a deal with the Yoga studio. 
My Yoga Teacher Training, my great roommates  and the nice people in my group should help me a lot of my way and journey to myself. .. After going from one extreme into the other I think I find now a middle way: accepting myself as I am.
"You get more flies with honey"
I could replace a very confusing experience I made that I held me back from doing things and made me very insecure so that I questioned everything before I acted.  Of course it was also up to me to take that way but I had not the confidence at that time. And some things were true but the way how to tell that...  It followed me for a long time and it got triggered again shortly before I left Germany. So I took it very serious and thought something was terrible wrong with me. 
Joy showed that the critical way is not necessary needed. As she said: "You get more flies with honey..." So true and so motivating! I felt great and safe at her place. That was an eyeopener for me and after some other things I realized nothing was wrong with me,
The best out of me with love
She and her lovely Teacher showed us how to walk and now we can walk with confidence on our way. .. She got with love the best out of me and made me feel great and secure. She made sure that everyone in our training could put there personalty in instead of trying to make them fit into something... Yes, it was relieving for me.
Read next time about my open-minded experiences about my Yoga Teacher Training in Nelson. Now I am very interested in anatomy and therapeutic Yoga! :-)
Thank you for reading my story!