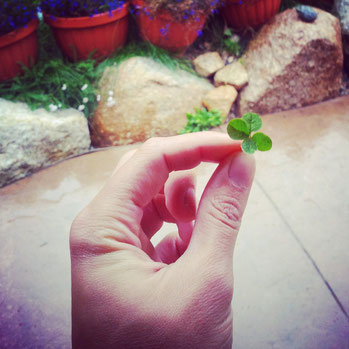 My start in Nelson was quite good and I looked forward to my wwoofing place where I would stayed until my Yoga Teacher Training would start. That means for around 4 weeks. 

Actually that was the longest time I stayed at the same place so far on my journey. Well, I left 4 days earlier together with my wwoofing partner Sarah.
I was very happy to work with her there. She is such an interesting, intelligent and nice person who inspired me a lot. One day she did Tarot Card reading for me which baffled me...
My wwoofing place was in the mountains of Nelson in the forest. And my hosts had their own meditation temple in the garden.


There I appreciated again the simple life, what really counts for me and I got a great boost of creative energy for two projects I currently work on.

We got our vegetables and fruits straight from the garden on our plates. Very connected with nature surrounded by forest, chipmunks, snakes (!) and big example of a pack rat.

I also learnt how bad it feels to be ignored by purpose... So it was time to speak up and I decided to leave earlier than planned. But I learnt a lot through that. Also that it is maybe not always the best way to live in a save bubble in your own world...

In addition I had time to reflect myself and come closer to the answer: Who am I..?
● ● ●
My wwoofing place in Nelson
My wwoofing place was quite high up in the forest which means in the mountains. It was possible to go to the town in Nelson but it was also quite a workout.
Quite a workout to go down and up the mountain to downtown Nelson.
Bat the view is priceless and often I got a lift from someone.
I was often very lucky that someone gave me a lift down or up. Well, the people here are very friendly and open.
Both were in their 70s which I had never reckoned with because they looked quite young and were still working. They both studied psychology and she did some retreats worldwide. He used to work as psychologist, They had also two children: Violet (31) and Clark (29).
When Sarah and I arrived both of them were at home. With them we drove later to a forest to save it against building a winter resort there. But this is another story...
Everything what I needed at one place
I had almost everything what I needed at my wwoofing place: food, water, nature, tons of books, a nice wwoofing partner and interesting chats with her. Our hosts were for two weeks not at home so we did our tasks and had time also for different things.
Therefore I didn't go that often to downtown. It was an one hour walk to town and one and a half hour up from town. I did it maybe three or four times during my 4 weeks stay.
My wwoofing place. Everything what I needed was there.
So beautiful and harmonic especially when Sarah and I were alone at the property.
My hosts meditation temple: the Namagon. Very impressive and connected with 
the earth  through lots of wires and stone which are set around like 
the formation of Stone Hedge. Here took also some retreats place.
Fresh from the garden on the plate
The most of our food came from the garden on the plate. We had so much to harvest that our hosts started to can pears, some peaches and pickled cucumbers. And not to forget the tons of tasty tomatoes.
Pickled cucumbers. So easy and so delicious.
Beans and tomatoes from the garden with real taste :-).
This little chipmunk is living like a king in a paradise. Lots of food and 
sunflower seeds. They weren't shy at all. One came very closely to me 
when I was reading a book in the garden.
Have a look in the right corner at the cellar window... There is Mrs Snake trapped.
I really fear snakes but I took it as chance to face my fear and took this photo.
But I was standing on a chair as you can see due to my shadow... 
My brother wrote me:"Years ago you had just said the word 'snake' by standing on a chair..." ;-)
Actually I helped the poor Mrs and put a wooden plank in the hole so that it could climb out.
By the way it was a friendly one. A so-called garden snake.
● ● ●
Very nice wwoofing partner
It was the first time that I worked with another helper at a place and I was very happy about it: Sarah from Canada.
We arrived on the same day and later left on the same day which wasn't planned but due to some things happened I left earlier. We were in the same age. She was on a turning point in her life and me as well.
Everything happens for a reason
Well, I think everything happens for a reason and that we met each other was a great inspiration for me to the right time. Her knowledge was really impressive. She learnt a lot of things on her own and was interested in a lot of different things. A very intelligent and nice young woman.
I could really great work with her. In addition we did almost every day Yoga together which was great.
Sarah did on our arrival day Tarot card reading with me, That was her occupation and she does it great. What came up was very surprisingly for me or rather not. It was a general overview and the things she said were absolutely true. I mean she didn't know me at that time.
It shows me how great her understanding for people is and the cards help her a bit. She did on one day a more deeper reading and that made me cry. I just asked which pattern I need to release in order to progress along my path.
She told me that it was my perfectionism and that I am pretty hard to myself. Also that I collect achievements but don't harvest them. But also I was still on the right path. So helpful for me would be to give myself more love and kindness...
Wow, believe it or not everything what she told me was right and the truth can be hard sometimes.
Before we left she did another one for me which was a big one and gave me even more great advice.
Coming closer to the answer who I am
For me it was great to hear it and it gave me some impulses for myself and things I can work on. But it took me a couple of days to think about it.
After it I opened more and more up and came closer to the answer who I really am. However, it gave me a boost of creative energy which I used for my next steps and my further path.
● ● ●
The bark mulch situation
One week Sarah and I were alone at the house. Our hosts told us that someone would come and bring the bark mulch. I heart loud noise, went out and saw a big truck.
A elder small guy with a very crumby looking face came out of the truck: "If I had knew that it was so far up in the forest, I wouldn't come..." Ah OK...
I said friendly "Hello" and tried to make some jokes... I showed him where he should put the bark mulch.
"What are you guys doing here?!"
He looked very suspicious around and when we reached the meditation temple and he saw some tends he just asked:"What are you guys doing here?!" "Well... meditation and stuff..." It was actually a very funny situation. I wonder what he was thinking ;-)
Obviously he couldn't go up with his truck. So we took another place which meant that it would be more work for us to bring the bark mulch up...
In the meantime Sarah joined me and we watched the guy putting the bark mulch down. I quickly ran into the house and took one of the jars with canned pears. When the guy was finished to take his check we gave him the jar and thanked him for coming all the way up. He smiled and went. :-)
Funny was that after he left I found the four-leaved-glove in the garden. We were watching the truck driving away and I saw the glove.
● ● ●
Smart cheeky bastard
One evening I sat in the armchair when suddenly Sarah screamed very loud. I shrugged. She said that she saw something which was quite big and disappeared under the fridge...
I took my head torch and looked under the fridge. First I couldn't see anything but I could hear noise.
I looked up to Sarah and looked again under the fridge and then I jumped almost back.
I saw straight in a rat face! Actually it looked very cute but still it was not nice to have a rat in the house. Sarah checked on Google and it turned out it was a pack rat. Very smart guys by the way. We called Clark that he should do something.
Well, he came with an old shotgun... Anyway, we couldn't catch the rat. It ran away downstairs and disappeared.
We set out a trap. But the smart guy let a mice (yes, there were also mice) the try and ate the food from the trap.
Well, the cheeky guy came one evening again into the kitchen when Sarah and I were sitting in the living room reading. It walked in as if it was the most normal thing in the world...
We couldn't find it in the kitchen. So we just laid tin foil on the ground so that we could here it. But it seemed to be very patient... So we tried it again with a trap.
Well, on the next morning we found the little guy in the trap. I felt actually very sorry and was also impressed that it was quite big. It might be a bit morbid that I took a photo.
I know it is  very morbid.... But I was very surprised how big it was.
● ● ●
How it feels to be ignored
During our stay our hosts were for a couple of days in the US were they hold some retreats. Therefore they gave Sarah and me some tasks and we worked through the garden. 
The lady was very warm and kind and stayed longer in the US. Her husband came back in our last week. So Sarah and I were alone with him.

Well, that was the week in which I spoke up...
I didn't get well along with the husband from the beginning on. Well, he avoided to talk straight to me and also avoided any eye contact. He just looked to Sarah and talked to her. Sometimes he said things to Sarah which let her feel uncomfortable and not taken serious.
My different strategies to deal with
I tried lots of things out like having compassion and understanding, put myself higher by telling me that he had big issues and was narrow minded and saying to myself that I would be just here for a couple of days...

Well, also those things didn't help me. 
"Everyone has something to say..." Or 
However he was very intelligent and had a big knowledge about different things. But when we had a conversation it was mostly a monolog. When someone made a point he started his sentence with:"No..." even he agreed. In those moments I was glad that he didn't talk straight to me...
One evening at dinner his I-won't-look-at-you-action was very tough. Even when I asked something he wouldn't look at me and would answer to Sarah as if she had asked.

But it was not that he was very nice to her at all. They talked about something and he just gave negative comments with a laughter to her. 
At that time I already left the table and sat in the living room close to the dinner room. Actually I got very upset and almost exploded. He treat me very bad and Sarah as well. That was too much.

After their chat or rather monolog he thanked her for the chat... 
Sarah came over to me and saw my very upset face. She offered me to talk which was probably great because I could let out some anger.

After it I went to him in the kichen and asked if he would have a minute. That was the first time that he looked straight into my face. 
I asked him why he would ignore me and if he had an idea how it would feel. He didn't answer first. I just said very upset:"It feels shit!" Well, I was very pissed of.

He answered that between us wouldn't be "energy connection" and he never had that before. And he said that he couldn't understand how I would feel because everyone feels different... Ah ja... Quite a brush over.
So I repeated myself and told him that it would be a pity to treat people like this because there was no "energy connection" and that of course everyone feels different but if he understands what that for a feeling would be and if yes why he was doing that.

I reminded him that I was here to help and that a treatment like that wasn't fair at all. So he said he found that I ignored him first and so he did that then as well...
I never thought that someone with a psychology education, practiced psychology with patients, talked about Buddhism and about spirituality was behaving like that. 
Well, he was right that I ignored him as well. It was my reaction of his behavior. I didn't like that he didn't listen to others opinions and brushed them over. Also that he said sometimes hurting things.

So, yes I found his behavior very disrespectful and therefore I tried to avoid him. 
Trying to find a way which work for both sides
Leaving was not an option for me because I didn't want to let Sarah alone. She would leave in 5 days. Normally I wanted to stay 4 days longer than she.
He asked what I would want. I said that he stopped treating me like this. He said:"Yes, I can listen to you and I can ask you something..." I said:"That is not the point. I want honesty and that you treat me in a proper way as long as I am here."
He said that he appreciate that I talked to him... I hold my hand out to him. It should show that I was serious about it and OK it was also an Ego thing of mine...
Bringing myself in a healthier mood with a method I learnt in Ireland
After our conversation Sarah and I talked about this. It was not that I felt totally great but it was better than before. Well, first I put myself higher by feeling more mature than he. But that wasn't a good base.

So I did a method I learnt in Ireland to turn my anger and hatred for someone in a more healthy way for me. However, this method worked quite well. 
After it I saw him with different eyes. I had compassion and understanding for him. That doesn't mean that I support this behavior but it helped me to let my hate and anger go.

So I could bring myself in a better and healthier mood. 

I plan to explain that method in one of the projects I currently work on. I will keep you up to date here.
On the next day I made some steps into his direction. He was first closed and it seemed to me that he didn't know how to act. But then Sarah, he and I worked together at something and it was really good. Later he picked apples for us and we had lunch. 
What I liked about him that even it was quite tough work and others would use bad words etc. he would just stay positive and make fun. That helped me as well to let go my anger and hatred.
I just said to him that I admire that he stayed positive in situations like that. So he smiled.
Well, it was a healthier situation for me and probably for everyone. I think he really gave the best he could and it was a healthier atmosphere.
He brought Sarah and me later to the bus station where I waited until Sarah went into the bus and I went to my hostel.
In the hostel... Well, first I needed a bit and for some reason I felt fear when
I was sitting with Sarah at the bus station. I don't know what it was exactly.
Maybe the fear what if my roommates in my Yoga place aren't nice (I will share it with 2 woman),
what should I do after the training...? Well, I already have some ideas. So I think
it was that I still had to digest the strange experience and always present tension. Even it was in the end on a OK level. But you can still feel it. And at a place in the mountains where you cannot quite avoid to meet each other it is tough. 
Lots of lessons for me - I am very glad for that!
So I left with Sarah a couple of days later and went to the hostel where I spent the first weekend in Nelson. I left 4 days earlier than planned.
I learnt a lot at my wwoofing place. And I understand what Ego means. I said to myself that I will never do that again to ignore someone. I have to admit that I did it in the past as well. Not in such a tough way like I experienced but I did it. It felt so bad. Nobody deserve it.

I also learnt how channel anger and hate. It was very difficult for me to turn it into compassion but it worked on a certain level. I mean if I feel all the time the negative things, then I feel bad.
● ● ●
Second date a la Brazil on a sunny day
I met my Brazilian friend again the next weekend
. It was a beautiful sunny day. I went first to the Farmers Market when he sent me a text when I would be ready.
He came with his van to the meeting point. I went smiling to him when he came out of his van. I have to admit that I wasn't sure how to greet him. So I just tried to gave him a huge which was a bit awkward because he wanted to give me a kiss. Well, that was also nice and made it a bit easier.
He asked me what I wanted to do and I said lets go to the lake and relax there. So we drove to the lake and found a very beautiful place at the lake and just enjoyed the nice sunny weather and talked about different things.
He asked me if I wanted to find a place in Nelson after wwoofing and my Yoga teacher training. I just said that I didn't know yet what I will do. All is open.
Enjoying the beautiful sunny day at the lake. 
By the way my feet are the dark ones. Spain did a good job :-).
Very simple
After a while we headed back to his van. He suggested that we could have a great ice cream. Oh yes! I would like to.
On our way to it he said: "You are very simple." I first wasn't sure if it was positive or negative. He said it is nice because I liked simple things and not very fancy stuff.
Yes, that is right. Well, a guy can impress me more with intelligence, open-mind and creativity instead of a fancy car, expensive watch (I wouldn't recognize anyway) or what ever.
After the ice cream he drove me up the mountain close to my hosts place. We said goodbye with nice kisses and he asked if he could visit me at my hosts place and said he could bring bikes with him that we do a tour.
I said of course and that it would be nice. So he drove down the mountain and I enjoyed a bit longer the view over Nelson before I headed back.
Enjoying the nice view over Nelson.
A short but very nice time
We were a bit in contact per text message after our second date. For some reason I didn't get an answer to my last two texts in which I asked how he was doing.
First I thought what was wrong with me and what did I wrong? Then I feared if I am in downtown that I could see him with another girl and I would be then look like an idiot...
Everything changes in life
So I took myself back and decided that neither nothing is wrong with me nor with him. For sure is that everything always changes in life and nothing is controllable. So if everything changes anyway, then attachment is obviously waste of time.
Therefore I changed my thoughts to positive ones. It was very nice to meet him and I enjoyed it a lot. He was very talented and self-driven which impressed me. I honestly wish that everything is well for him.
A week later I deleted our text conversation and his phone number. I have to admit that it was more a self-defense so I wouldn't check in a weak moment if he was on WhatsApp...
● ● ●
Many lessons and tests
So I learnt a lot during my first 4 weeks in Nelson. I came closer to myself and my creative side, learnt what Ego means and what that means for me and how important it is to bring myself in a healthier mood if things around are challenging.
I see all the experiences as tests for me and where I stand. I am glad that I had this opportunities even I needed a bit to feel good.
I am very happy that I met Sarah. I think we both learnt a lot at this place and from each other. Isn't it interesting that we came at the same date and stayed for the same period of time...?
Creative boost for my new projects
During my stay I got a creative boost and started to set my ideas into two new projects. Both are something what comes from my heart.
One is the step into the direction to bring my trainer skills and my experiences from my journey together. The other one is something I got the 
idea during my stay at Anne's magical place in the mountains of Spain.
I think both projects will be very great and valuable for everyone. I will keep you up to date about them.
Read next time about my adventure in the wildness where I tried with Sarah and some friends to save a forest and their Grizzly bears for building a ski resort. Like my friend from Muenster wrote: very good, very eco, very right! We went there during our stay at our wwoofing place for 4 days.
Five friends for four days 32 km in the wildness of Canada without any civilization around us... It was a great experience and I felt even more connected with nature!
Thank you for reading my story! :-)
She is also very connected with nature... ;-)