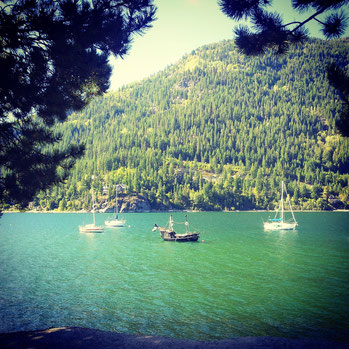 Nelson! I am finally there. So many people on my journey through Canada recommended to me that I have to go there and everything went just great when I made my decision to take the bus to Nelson.
I arrived the weekend before I would go to my Wwoofing place. So I had enough time to settle in and discover the village.
I liked Nelson immediately and loved the atmosphere there. It reminded me about Kinsale in Ireland. Very alternative and Hippie like. Lots of creative energy. I loved it!
In my bus was a guy who lived in Nelson. He showed me where my hostel was and where I get the best coffee in town.

During my discovery I went to the lake and in the park. There I met someone who made me mesmerized with his whole appearance...
He took me later to a house party with the sentence: "Do you know American Pie? It's gonna be exactly like that there." 
● ● ●
Finally in Nelson!
The bus tour lasted 12 hours from Vancouver to Nelson. Compared to my 3 days trip from Toronto that was laid back :-).
I arrived after 12 hours by bus in Nelson. Sounds long? Not for me anymore since 
I did the 3 days trip by bus from Toronto to Vancouver
 :-).
Nice was that with me in my bus was a guy who lived in Nelson for a while. He showed me where my hostel was and where we could have a snack because it was around late when we arrived.
I almost forgot the following funny story: When we had our snack together a young skinny Hippie guy in leather jacket, leather pants and wild hair came into the shop. He greeted my friend and ordered something.
Suddenly he turned and asked my friend if he could help him out with 5 $ because his was just a half... He had just a half 5 dollar bill in his hand. Someone gave it to him and he didn't know. Kind of mean. But my friend couldn't help him out.
So the poor guy went out said "Namaste" to the sales assistant. Well, I felt a bit like in a movie like Pulp Fiction or something :-).
Best coffee in town and Hippie Market
It was also very kind that he showed me on the next where I could get the best coffee in town and where the Hippie market or rather Farmers Market took place.
Unfortunately he had a very negative sight of things and apparently not much trust in people. He said a friend invited him to come to Brazil but he refused it with the sentence that he would never go to Brazil because almost everyone has AIDS and Hepatitis C there...
"If you change your view to look at things, the things you look at will change" Dr. W. Dyer
He mentioned some other example he had not much trust in. Well, he had some tough experiences which is sad. Only he can change his view to look at things.
● ● ●
Very special place with lots of creative energy
I could see the difference and feel the nice atmosphere in Nelson. Yes! I liked it immediately there. It is a very special place with a lot of nice small shops with their own brand and creations.

If you are looking for a McDonalds there, then you won't find one. :-)
A barber shop in Nelson with nice decoration.
Indian shop with lots of things I wanted to buy and nice incense sticks.
Shop from outside. Yes, that is how I imagined Nelson :-).
It turned out that my hostel was just a few meters away from my Yoga school.
Yoga studio in an old church
On the next morning I went to my Yoga school and talked to the owner Joy. She was so kind and warm-hearted. She explained a lot of things to me and showed me her studio. The studio is also very special because before it was a church and they turned it into a Yoga studio with a great room for Yoga and other things which made the place beautiful.

It was apparently a lot of work. The lifted the whole building up to built a cellar with great space for a small library and a shop with natural products.
I already told Joy my story when I first called her and I felt very understand. She traveled a lot as well and lived at different places. She also told me that people would become very creative in Nelson. 
That was also something what I wanted to experience. I remember that I had lots of creative energy in 
Spain at Anne's magical place in the mountains
. In the last couple of weeks my creativity was very narrowed due my narrowed thoughts about making money. 
But now I want to do something! I want to learn something!
● ● ●
Mesmerizing encounter at the lake
Well, I am very attracted to water like the sea or a lake. Water and it's movement and sound makes me feel calm and relaxed. I love to meditate at the beach with the sound of water. Also doing Yoga is great for me close to water.

I feel more connected with my mind and body if I am close to the see or a lake. 
Ironically, I don't like swimming that much... 
A lake with an unique pirate boat
Anyway, Nelson has the beautiful Lake Kootaney with an unique pirate boat. I went to the park beside the lake, did some yoga in front and meditated. So great.

On my way back to my hostel I got to know to someone who just confused me in a positive way....
Lake Kootaney. Funny that the arrow points exactly to the seagull.
Beautiful panorama at my yoga and meditation place at Lake Kootaney.
Blowing from the wind.
Romantic message in the lake.
This sentence you say when you go into a shop or when you see people during hiking etc. Not necessarily in a big city but in a village like Nelson.
I was on my way back to my hostel after I did some Yoga and meditation at the lake. Suddenly a guy on a mountain bike passed by and just said:"Hey!" I said:"Hey!" he slowly cycled a bit further by saying "How are you doing?" "I am fine and you?" He turned his bike and came back and stopped close to me.
He wore sunglasses and he had dark hair and nice full lips. His voice was very calm and soft with an cute accent:"Where are you going?" "Oh I am actually on my way back to my hostel. I just checked out the lake."
I could smell his scent... I felt very attracted to him.
Slowly he put his sunglasses on his head so I could see his beautiful brown eyes with long dark lashes.
He looked at me from my head to the feet and back to my face where he stopped with a very tempting view. He just said with his calm and soft voice:"You are gorgeous..."
Perfect example for a body language seminar
Oh man, the way he looked at me, the sound of his voice, his scent, the lake... Everything was perfect in that moment... I got a nice shiver through my body.
I just thought:"I want to taste his lips...!" Instead I laughed by tangling my hair around a finger and tossing my head back.
Well, a perfect example for a body language seminar... "What kind of body language is she using...?"
I just said "Thank you!"
"I did Wwoofing here as well..."
So we talked about what we were doing here. I told him my story. It turned out that he was from Brazil and studied in Nelson. Before he lived for a while in Vancouver and studied there.
We spoke about Wwoofing and he told me that he did it as well in Nelson and liked it a lot. That was one point more for him.
I said that I had to go know and we changed our phone numbers. I headed back to my hostel.
When I was in my hostel I got a text from him and he asked me if I want to come with him to a house party later. I wrote back "yes" and suggested that we could go for a beer before.
He picked me an hour later up from my hostel and we went to the pub Royals. I noticed that he was quite tall. In the park it wasn't obvious because he sat on this mountain bike. I didn't know first what we could talk about. So I just started with something.
His calmness confused me. I didn't know how I should put it. Was it self-control or what ever? For me he was very mysterious and that made me very curious.
We talked in the pub about different things. He still spoke with his calm and soft voice so that I had sometimes problems to understand him due to the background music. He seemed to have many layers and talents. But he was very modest with them as well.
He was not the one who comes into a room, acting around and says:"Here I am!" But he was the one who would come calmly into a room and still all eyes on him due to his charisma.
After a while it was time to go to the house party. He just asked me:"Do you know the movie American Pie? It's gonna be exactly like that there..."
We went to his car which was a big van like a Ford Transit. He told me that he bought it from a German couple. He opened my door and crawled in. The driver's door was difficult to open.
In the back of the van was a big mattress laying on some boxes. There were also his skateboard and some other things. The ceiling and doors where covered with soft fake fur.
What a great Hippie bus!
He spent some nights in his van and lived there for a while. I liked it that he obviously just did things and had a positive attitude, was intelligent and very pragmatic and liked the simple life. He seemed to have a lot of ambition and worked hard for his aims.
No talks about making money... What a relief!
On the way to the house party he asked me if I have incense sticks with me "Oh, yes I have. I use them for meditation." "I can smell them. Nag Champa is my favorite smell..." 
Wow! I mean a guy who can smell the incense sticks, knows what it is and recognized the smell and had the same favorite like I have...
We arrived at the place where the house party should take part. It turned out it was a students accommodation. Those were around 8 people share a kitchen and bathroom and have their own small room.
From outside we could already hear the music. Because my friend had no keys we had to wait for a moment until somebody came out. But we didn't wait long. So we took some stairs until we reached the apartment where his friend lived.
Well, my Brazilian friend was right. When we went into the apartment I felt immediately reminded of American Pie.
Lots of young people with the typical big plastic cups in their hands and lots of beer. Some guys played a drinking game on the table other started to play music instruments, or rather tried to play... Very funny.
They were actually very open and wanted to know where I come from etc. It was funny to watch it. I had some interesting conversations. One guy told me that he was 19 years old... Aha... I turned quickly the topic. By the way I didn't ask my Brazilian friend how old he was... Pretty much younger as I am I guess. But I didn't care at this evening.
After a while someone said that we would drive into the village. My friend offered them a lift. A whole bunch of students ran out down the steps of the house. They said something like "Let's climb on the roof of the school..." Me and my friend went slowly behind them.
When the guys were out of sight my friend suddenly pushed me against a wall and gave me a deep kiss... Wow, that was nice.
Some other people ran down the steps and passed by so my friend stopped before they could see anything.
When we went out of the building we could see that some of the guys were already on the roof... Fortunately, nobody got injured or something. The security guy came over and just said that they should come down. So they came down.
Funny ride through the night
My friend opened his van and the drunken guys lay on the mattress and he drove them to a pub in the village were they went in with loud laughter.
So we were alone in his van and standing in front of the pub.
He asked me what I wanted to do. Either if I wanted to come to his place or go into the pub. "I don't want to drink that much. Let's go to your place..."
Easy going roommate
His place was not far from downtown but it was quite up the hill. When we went into his house his roommate was sleeping on the couch and woke up due to the noise.
The roommate was very kind. He said that he was very tired from a party the evening before and that he would go to bed early. My friend and I sat on another couch and talked a bit with his roommate until he went to bed.
So we were again alone. We looked to each other. I smiled at him. He crawled to me, put his hand behind my head and gave me a passionate and long kiss. I just fully enjoyed this moment.
Actually it was like I imagined it when I first saw him in the park...
Yes it was alright to come to Nelson!
He brought me later back to my hostel. When I went in I had a big broad smile on my face. What a great day and evening. I enjoyed it a lot.
I also looked forward to my Wwoofing place which would start on the next day.
Yes, I was very happy and it was right to come to Nelson!
Daisy in the rock in front of Lake Kootaney at my favorite Yoga place.
● ● ●
What comes next?
Read next time about my Wwoofing place in the forest on the mountain in Nelson. It was like in a different world. So calm and beautiful! And we got the fruits and vegetables right from the garden on our plates.
How great is that?
I learnt there how to can fruits, pickle cucumbers, dry fruits and other useful things. There I had also time to reflect myself and what for me really counts in life and what holds me back from things.
I wasn't the only wwoofer. With me another girl was there and I was glad that she was also there. Such an interesting person.
There I came back to what I already learnt on my journey. The appreciation of the simple life and to love the simplicity of life.
I knew how it is if you have a lot material things, then you fear to lose it and want more. But material things will never give happiness. That has to come from inside.