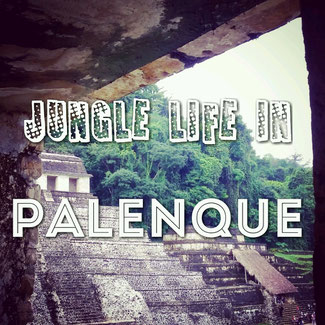 I took a bus from Bacalar to Palenque into the jungle. I was there last year and I wanted to check it out for my tour.
On my way from the bus station in Palenque to the community El Panchan I experienced once again the power of Karma. And when I arrived in the jungle it started to rain constantly. But I loved it.
In Palenque I got to know to a young Mexican artist who showed me around for my tour.
And I lived next door to Cheech and Chong ;-).
In the restaurant in El Panchan I felt a bit like in a speed dating show or being a protagonist in a Tarantino movie…
Welcome to the jungle
I choose Palenque for my tour because it would be a special experience for my group to spend a night in the jungle. In addition the atmosphere at the ruins is very special as well. 
When I arrived in Palenque I took a colectivo to El Panchan. El Panchan is a small community consisting of hostels and restaurants in the jungle. You cannot make any reservations in advance for a place to stay. You just go there and ask if they have any availability.
Son of a Shaman
Anyway, I had a chat with the driver of the colectivo. It turned out he was the son of a shaman and his grandfather was one as well. He started to tell me things about me which made me feel uncomfortable. I mean in some points he hit the nail on the head. At one point I started to cry a bit. I remember that Alejandro in Bacalar said that Shamans would have the ability to control your dreams. Therefore you should be careful with them. I found it a bit scary.
The colectivo driver said that I would sometimes collect negative energy I couldn't get rid of it. True… He touched me in a way I didn't like and I said he should drive me now to El Panchan what he did after I repeated it again with a stronger voice.
Karma...?!
When he stopped the colectivo and opened my seat door he said something like that he had now the negative energy… I didn't understand until I took my stuff and walked behind the vehicle. 
It had a complete flat tire! I felt a bit like a witch. 
I mean I felt uncomfortable with the shamanic son and in the next moment that happened to him… I just left and walked towards El Panchan and hoped to get a Cabana at Jungle Place. It was the beginning of Semana Santa and many people were on vacation.
Luckily they had still a free Cabana with a private bathroom and hot water (even if it's not necessary in the humid and warm jungle)! So I was happy :-).
Jungle rain
When I went into my Cabana and put my stuff on the table I could hear a familiar sound: rain. Lots of rain. I loved it! The sound of the rain drops falling on the big leaves in the jungle, the smell of fresh air mixed with earth and fungus and the silence that comes when it rains.
I looked out of the window what just had a mosquito net but no glass. I took a deep breath and soaked the smell in.
Yes! I loved it and I recorded the sound as well with my phone.
Cheech and Chong
I shared the terrace of my Cabana with another one. My two 'neighbors' sat outside under the roof around a table full of Marihuana, tobacco, long papers and beer. Both guys were quite tall. It turned out one was from Sweden and the other one from England. Actually they were very nice guys. Like Cheech and Chong.
They offered me to try a cake (a normal one). It was very nice. I asked them about the ruins.
The guy from Sweden said:"We have been there on magic mushrooms! It was awesome! You have to go there on magic mushrooms."
Well, thanks for the advice. I preferred to experience it in the 'normal' way. :-)
Restaurant encounters
After en I organized my stuff, took a shower and had a chat with Cheech and Chong I realized how hungry I was. It was almost noon. The last time I ate something was 12 hours ago. Therefore I went through the rain to the restaurant Don Mucho. A German guy and his Mexican wife run it.
I seated myself on a table and just enjoyed the sound of the rain drops falling on the corrugated iron roof. I ordered 'Huevos a la Mexicana' and an Americano.
Mister Tequila
On another table I could hear a conversation between a drunken Mexican guy around my age with two guys from Germany. I just hoped the drunken guy wouldn't come over to my table...  
But with drunken guys it's like with cats: If you don't want them to come, they will come...
I got my breakfast and started eating, when the drunken guy came over and seated himself on my table. He started speaking in English to me and I answered in Spanish. He was surprised and asked if I was Mexican because I would look like that. Well, obliviously he was very drunk…
People asked me sometimes if I was Italian which I took as a big compliment. In Barcelona it happened once to me that a shop owner talked to me in Italian and he was very surprised when I said I was happy to understand and speak a bit Spanish. Nobody ever guessed my roots further south.
Mr Tequila talked about a lot of things and said he would have a nice house and he could show it to me… He asked me three times for my name. 
After some minutes listen to bullshit I was fed up with him and I said in Spanish that I would prefer to be alone and that he should go now. And he walked disappointed away. Anyway, he won't remember it later.
The black wolf
 A bit further away I could see some guys standing under another rooftop. One guy reminded me of a friend of mine from San Cristobal. Long hair, dark clothes, his movements and his height. It might be him. Was it him? Could be due to my friend posted just recently some photos of Palenque on Facebook.
The guy saw that I was watching him and he greeted me by waving his hand. I greeted him back. He walked over, asked me if he could sit down and seated himself on my table.
It wasn't my friend. The one in front of me was much younger and he resembled actually a bit Jack Sparrow from Pirates of the Caribbean. He said someone said it before.
Speed dating show or being in a Tarantino movie
It felt a bit like in speed dating show or rather in a Tarantino movie where the protagonist finds herself in very interesting situations.
He introduced himself to me. My impression was that he was this kind of bad boy guy who is actually very sensible. He wasn't that flirty like Mr Tequila. He was just curious and careful. I felt way more comfortable with him as with Mr Tequila. I offered him something from my breakfast because it was too much for me alone. 
I told him that I was looking for inspiration for my tour. He said he would be an artist and created things from exotic animals like their teeth and fur… That part I didn't like and I told him. He said that I was flying with an airplane to Mexico and would passive do something negative to the environment. Well, in a way he might be right. Everything is connected.  But that didn't change my opinion about dealing with death exotic animals.
In addition he told me he would carry DMT and magic mushrooms with him. Anyway, he talked too open about 'bad' things so that I couldn't believe he was such a bad guy. He named himself a black wolf.
Discovering the surroundings of Palenque
It was still raining. After a while the black wolf asked me if I knew the surroundings already. I didn't. He offered me to show me some places for my tour. I agreed and we walked through the rain into the jungle. 
During walking through the jungle he warned me about snakes… Oh… Of course, obviously we were in the jungle and there are snakes. To avoid a snake bite it's necessary to step hard on the ground like an elephant to scare them.
He showed me a place with a waterfall and some others for doing Yoga. My jacket, trousers and shoes were complete soaked of water but I didn't care much. The rain was warm and soft.
Private tour through the ruins of Palenque
On the next day we caught up again at the restaurant and he showed me a place where they do cheap and cheerful Quesadillas. It was just 30 meters away but last year I didn't see it… 
I asked him if he wanted to join me to go to the ruins. He came with me and explained to me lots of things about the ruins and other things in Palenque. Therefore I had a very interesting private tour without magic mushrooms ;-).
The ruins of Palenque are very special for me. When I'm there I feel connected with the nature. It's difficult to put it into words: when I inhale it feels like I'm connected through a spiral in front on me. 
Sounds maybe as if I was on magic mushrooms but it was actually just letting me connected with nature. 
What comes next?
I stayed for two nights in Palenque. 
After Palenque I took the bus to San Cristóbal de las Casas. There I stayed in the Posada Mirador where I volunteered for a couple of weeks in 2015. Coincidental they had their first anniversary. My Russian chica and I were the first volunteers at the reception when they opened. 
In San Cris I had a reunion with my French friend I got to know to in Cancun. It was great to see him again there. And it shouldn't be our last reunion in Mexico. Well, the world is a village like I experienced a couple of times already :-).
In addition I caught up with the crazy Mayan brothers I've met last year and we had again a crazy fiesta after a great welcome dinner.
And I attended a so-called Temazcal. It was a quite profound experience…