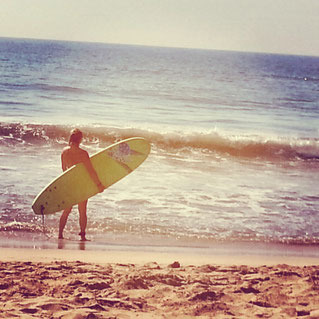 In January I did workaway at the Funky Monkey hostel in Mazatlan. I was the Yoga Teacher there and helped with cleaning. I confirmed it already when I was in Nelson in Canada. At that time, I said I can stay for one month. However, when I was in San Jose del Cabo, lots of people told me where I should go in Mexico. Places like Puebla, Oaxaca, Mazunte…etc
In addition, I wrote a friend of mine who lives in Mazatlan and she was living in Germany around 10 years ago. It turned out her cousin lives on the same street where the Funky Monkey was. Not only that…
On the whole, I had a great time for two weeks
at Funky Monkey, met other very nice volunteers like a French girl, tried out surfing more or less successfully and felt in love... And left...
Why I love to get to know to people who act different than me
First of all: it was my second time in Mazatlan. I was there in 2013 when I visited my brother in Guadalajara. He studied there. So I knew already some places like a nice restaurant "Puerto Viejo":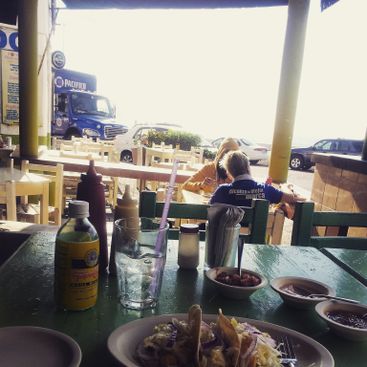 A couple of days after my arrival at Funky Monkey, a French girl came to Funky Monkey. Also a workawayer like me. She was a massage and physiotherapist and very lovely, smart and ambitious.  In addition she was a very good singer and had her own band in France. She offered massages for the guests. So we did a kind of spa at Funky Monkey: Massage and Yoga.

When I started my Yoga classes I decided to ask for donations so that I can buy food due to it not being included in my volunteer work. I recommended to my French friend to do the same for her massages.
Sharing is caring
What she said made me think… She said she was not sure about it because it would not be fair for the other volunteers who would not receive any money…
Oh yes! I had not thought about that… I was very thankful for that. 
The solution was later that she and I let the guests know where they could put donations. A very nice manager at Funky Monkey – a very smart and kind girl from Boston – gave the donation to all the volunteers so it was equal. 
Very consious
Another thing she did that made me think was… In Mexico in certain supermarkets people would put the groceries in bags. My French friend and I went one day together to a supermarket close by.
She gave the guy who packed her groceries in the bag, a tip. She said she was not sure if it would be the only salary they receive…
Hmmm, to be honest I have not thought about that before. Since then I also started to give a tip.

That is why
So that is why I love to get to know to people who act differently than me. The mindset is quite similar but how to act with that is different.
When we are open enough we can learn a lot from that.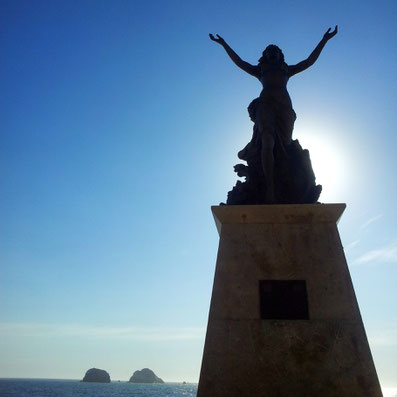 A coincidence and poco a poco fallen in love
First of all I do not believe anymore that coincidences exist. I learnt too much during my journey. I rather believe in mindset attraction and energy connection. 
However, I have a friend in Mazatlan. She lived around 10 years ago in Germany for a student exchange. She was friends with my brother. When I arrived in Mazatlan I sent her a message on Facebook with my location.
She said that her cousin would live on the same street. How funny!
"Are you Jane?"
I remember when I arrived at Funky Monkey. The owner Salem said:"Are you Jane?!" "No! My name is Jeanine." "Ah, awesome!"
In the living room sat a Mexican guy and Salem introduced him as good friend of his. I just thought: cute guy. 
A couple of days later the good friend was hanging out at the hostel and asked me in Spanish: "Eres Jeanine?" "Si, soy." It turned out he was my friends cousin… He offered to drive me to my friend's place on the weekend. 
He and I got along very good. When I tried out surfing, he was with us and we talked a lot in Spanish and played football at the beach.
On the following weekend, we drove to meet with my friend. Actually we both talked more than my friend and I. Well, 10 years is a long time and things change. That is ok and normal.
Korn connects
On our way back, he played Korn "Freak on the leash". We both sang very loud to the song and had lots of fun. So he said it would be to cool to drive already home. So he turned the car and he drove me to a place where we had a great view over Mazatlan. It was slowly getting dark and the sunset was stunning (I won`t use "awesome" because I hate the overuse of it.... ;-) )
Well, very classic I felt cold and he hugged me. I just thought: "Oh oh… I think I like him more than I reckoned … Oh man what if in the hostel than? I mean how it would be and what if…" So I was fighting with myself and eventually I just gave up.
We looked at each other and he kissed me. It felt very nice. Everything was perfect. The right time. I enjoyed it a lot.
REalization
At that time, I realized that I had fallen very much in love…
Everything happens very slowly. It felt bad to leave.
But there was not an option to stay. He needed to work and also planned to study in Mexico City in a couple of months. I booked my next destinations already and have my aims as well. I had a very great time for sure.
Vamos a ver and the coin in the hand
One thing for sure is that he is a very great guy and I wish him the best.  Maybe our paths will cross again.
Like I wrote in one of my latest posts about attachments I try to turn my fist with the coin and hold it on my flat palm. It does not mean I ignore anything but I try to be aware that things change. 
I try not to grasp at that what we had in Mazatlan. I am very thankful for the great experience. Vamos a ver…
What comes next?
Read next time about my travel down to Puebla, Oaxaca and Puerto Escondio where I should learn what it means to be tired of traveling and feel homesick…
It was time for grounding a bit. And I see that I am not even far from my family and friends. It feels now also far…