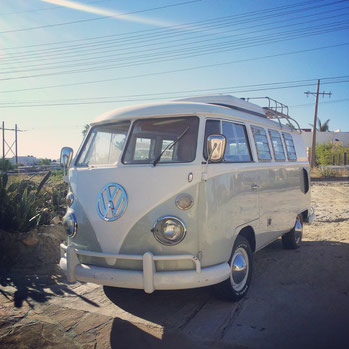 Buenos días Mexico! During my Yoga Teacher Training in Nelson in Canada I considered what I want to do. I knew that I love Spain and want to learn Spanish and that I cannot handle less than -10°C...
Due to I got very good tips from friends I decided to go to Mexico! I found a cheap flight to San José del Cabo. For me it was very important to give Yoga classes and learn Spanish due to I am just fallen in love with Spain. On workaway I found a place in a community center: Raices y Brazos. Beside me there were three other volunteers.
I lived there for 4 weeks, celebrated my birthday 3 days earlier, went to a Full Moon Party ,could develop my Yoga teacher skills, learnt a bit Spanish, got very creative and met very nice people. This is part one.
After the Hurricane
First of all I have to mention that San José del Cabo was hit by a strong hurricane on the 14 of September 2014. That was probably the reason why my flight was quite cheap.
Actually my youngest brother Mitch was in Los Cabos when it happened. He sent me a video on WhatsApp and just said: "Here look! There is a strong storm coming." I was in Canada in Nelson when I received the message.
Three days later he sent me another message and said that I should check out the News because the storm turned out to be a hurricane that destroyed the whole area, people would rob the shops, no electricity was provided and he and his girlfriend were flight out by the Mexican Army...
Wow! I could still see the results of the hurricane when I walked through the city. Also my friends in San José del Cabo told me about their traumatic experience.
Germany+Canada+USAAsian = great combination
On my first days in Mexico I met four very cool girls. They stayed at Raices y Brazos for a couple of nights: Hilary and Alice from Vancouver in Canada and Jenn from the USA with Chinese heritage.
Alice was very funny and talked without any filter: "The first time I heard that comedian I peed a bit...".  Jenn was for me a mirror. I admired her ambition for learning things. She was a great Yoga teacher and I received lots of great tips from her. Hilary was very kind and had an amazing talent to draw as you can see in the following photo.
Bad compliments or deeper wishes
I will always remember what Hilary said about her talent to draw. She said that people often say to her:"Oh! You can draw so great and me not. I don't like my picture compared to yours."
She said that would make her feel bad because her talent makes others feel bad... So people want to make a compliment to her but the way they do it makes her feel bad.
That let me thought a lot about different situations where I gave those kind of "compliments" or received similar ones for something I did and it made me feel bad. I think it is just another way to express your own wish. I will watch myself now and rather say something like "beautiful picture / action I am happy for you it inspires me a lot...".
So I take the responsibility for my own actions, make the other person feel good and take the inspiration out of it. I think that works better for me.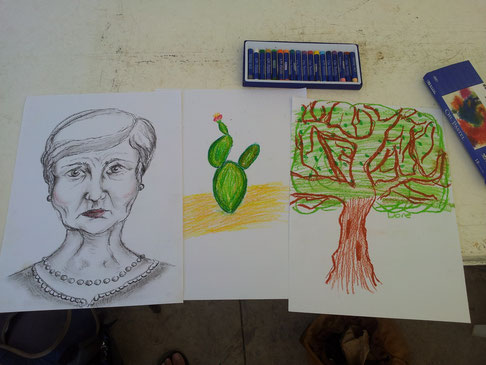 Mindsets attract each other
It turned out that Jenn was also a Yoga Teacher and devoted to Ashtanga. One day she gave a Ashtanga class for me and some other people. It was about 2 hours and very great. 
It is very interesting, I have the feeling the world consists just of people who are interested in Yoga because I meet them. But when I was working in Germany I had the feeling the world consists of people who are interested in business and computer... Well, "we are what we think, with our thoughts we create the world." Buddha
Beautiful nature and what a boatman can scare...
Hilary, Alice, Jenn and I went together to San Lucas where Hilary and Alice did snorkeling. Jenn and I suntanned at the beach. 
The Canadian girls bargained a good price with the boat guys. So we went to the island. On the island were guys who helped us out from the boot. How kind! And without asking!
Well, they asked for tips. They were very ambitious and followed us. We didn't give them any tips. So they were quite upset. Anyway, the island was beautiful and later we took a boat tour.
When the boat came to pick us up we made sure that we climbed alone into the boat.  When Hilary climbed into the boat the boatman said:"You scared me!" "Why?" "Because of your big boobs..." I was so surprised that I just started laughing.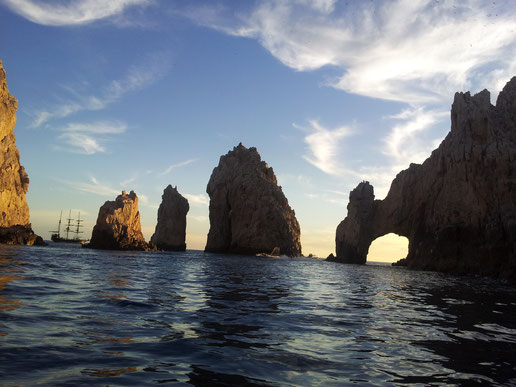 Celebrating my birthday 3 days earlier and why we tried to climb the fence...
Due to the girls would leave before my birthday on the 4th of December we decided to celebrate it earlier! Why not?
We went to a restaurant and ordered nice food, magaritas and beer. We had a great and funny evening. On our way back to the community center we danced and sang on the street. So hilarious! Four drunken girls. 
When we reached the hostel we weren't able to unlock the door. We tried everything but it didn't work. So Hilary and Jenn started to climb the fence. A spiky one by the way... Jenn made it. She opened the door. It turned out it wasn't that difficult at all...
On the next morning we went with Jóse - another volunteer and now like a third brother for me - to his workplace Flora Farms. I describe it as oasis in the desert. Very beautiful with nice food. For Jenn it was less enjoyable... The poor girl had a very bad hangover. Actually Hilary stayed in bed. Me and Alice were quite well.
Jenn sat on a chair and looked very sick. A lady saw us and asked where we would come from and what happened to Jenn. Alice said by pointing on us: "Canada, Germany and US-China... We had some drinks yesterday. The US-China couldn't handle that..."
On that day Hilary and Alice left. Jenn left on the next morning. I brought her to the bus stop and we said that we would see where we would meet again.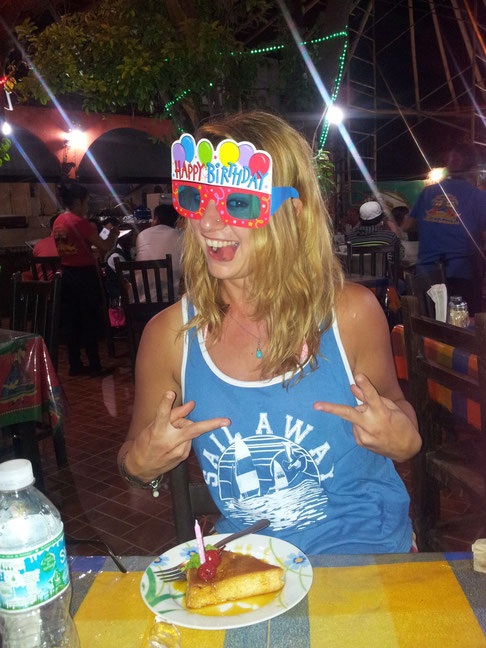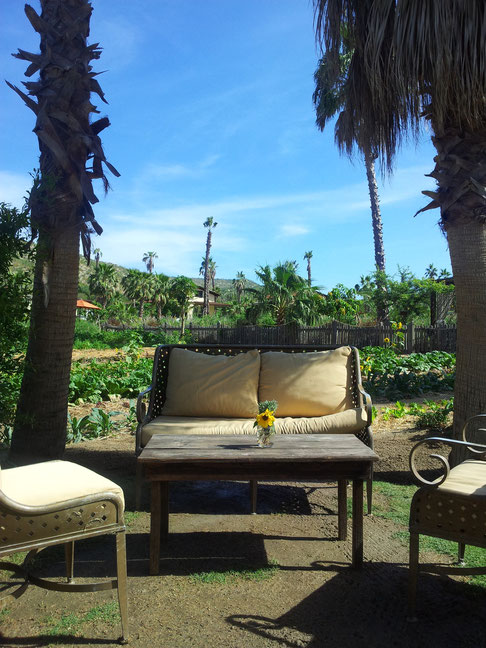 Getting Started with Yoga teaching
When I arrived at my workaway place at Raices y Brazos I had no clue what to expect. I knew from their profile and website that the offer Yoga classes and other activities.  
Beside me there were three other volunteers: a married couple from Chicago Arron and Sonya and Jose from Guadalajara. 
The website of Raices y Brazos was not up to date. I was the only Yoga teacher and other activities apart from the hostel were in progress due to the hurricane and other things.
Great chance to develop!
So I took it as chance! Peter the owner came a week later. So I sent him an email with my idea for a Yoga schedule and gave already Yoga classes for the guests. It was by donation. I gave it to the community so that we could buy food from that.
First class...
When I gave my first class I was quite nervous. It was a private one. A guy from America who had a knee injury and tight hamstrings. I showed him some good poses to help him to come back in balance. He was very happy about it.
What I love about giving Yoga classes
So I developed poco a poco my Yoga classes. It is so much fun for me to help people and bring different themes like Simplicity of Life, Self-compassion, Love and Kindness into the class. 
More than once a student came after class to me and said that would be exactly what they needed. Some students gave me a hug and a broad happy smile. That is why I love to teach Yoga and give something back to people. A moment of relaxation and being present.
One day I invited my students to think about a situation in which they were very happy and well. A girl came after the class to me and said that she would need quite long to find a situation. She said it showed her how long it was ago that she was happy and well. She was in healing process after a very bad experience. I was very touched by her openness and that she could take something for herself from the class.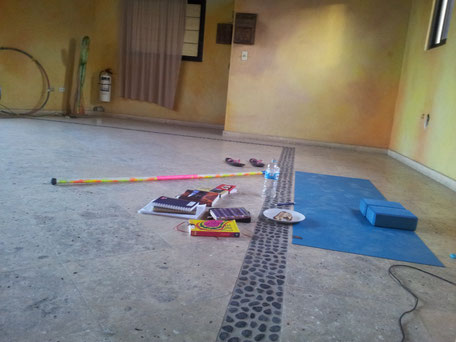 The same what I did in my former job?
It is interesting... I do actually the same what I did in my former job: I help and consult people. That was the part I loved the most in my former job. Beside training the trainees in my department. But often I was more the trouble shouter focused on fixing projects problems but not helping people for a better life (well, depends on your point of view...).
Apart from the income the main difference is that people come now to me because they want to do something for themselves. I see after class the results when my students smile and shine and leave the place very silent and relaxed. 
It doesn't make me rich in sense of material things but rich in fulfillment... That gives me a lot. 
Working on Spanish
I came with the aim to Mexico to practice my Yoga teaching skills and learn Spanish. So far so good. Unfortunately, in San Jóse del Cabo everyone speaks pretty good English. So a Spanish class was needed.
I went to the Mercado Organico and started to talk to people. I talked to a woman who made nice jewelry and told her that I would like to learn Spanish. She recommended me Marlena on the market. So I went to Marlena and she said they have a special offer for volunteers at Raices y Brazos. Well done! She also told me there was another German girl at the market. Cool! I was curious.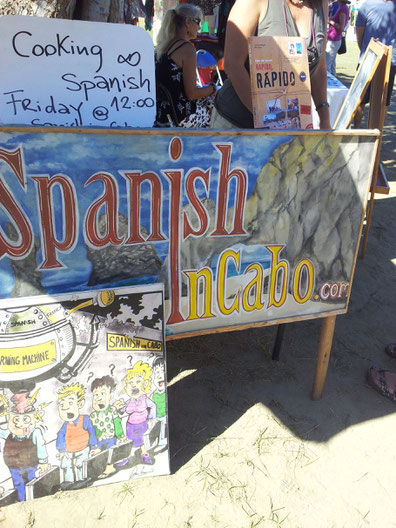 Building up my network
Marlena connected me with the other German girl; Stephanie. I told her that I would be the new Yoga teacher at Raices y Brazos. Well, that was not good... I could see in her face that something was wrong. It turned out that she was also a Yoga teacher. She asked a couple of weeks ago if she could give classes at Raices y Brazos... I felt a bit bad even it was not my business.
Hablas espanol? Ok I need some more Spanish lessons...
I started some Spanish lessons and wanted to try them out. I went with Jóse, Helen (German girl and guest of the hostel), Violeta and some others to the Art Walk. Helen and I were hungry and we bought some Tamales. I asked in Spanish where we could pay.
The woman said something and I understood that we have to go the other little vendor. So we went to the other one and put the dishes from there on our plates. I wanted to pay. The woman said it was not their food and pointed to the vendor we just came from... Ups! So I needed obviously some more Spanish lessons... Quite funny.
Nice exchange for German and Spanish
I made friends with Violeta a very nice, brave and talented Mexican girl who wanted to learn German. We caught up and exchanged about our languages, That was really great for me. With Violeta I went later camping at the beach and had a very great day full of spontaneous things. But that comes in another post :-).
Full Moon Party
Peter the owner arrived a couple of days later after my arrival. He took us (Jose, Arron, Sonya and Stephanie the German girl) with him to a Full Moon Party. It was a party that was held every full moon at the beach in the middle of nowhere.
So we took Peter's Volkswagen van, lots of Yoga mats, blankets and sleeping bags and drove to the beach named Shipwreck.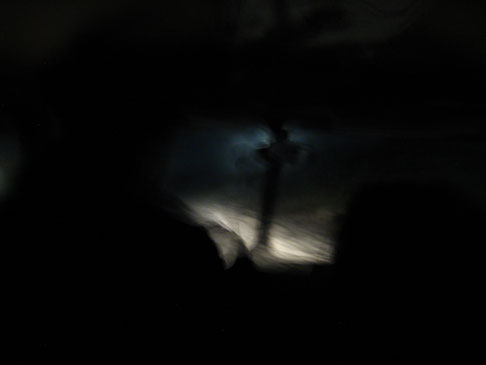 Different world!
When we arrived it was already dark and some other cars were also there. Loud and good dance music, light effects and happy people. On the dance floor were hula hoops laying on the sand. I took one and started. So cool! It was a very hippie like atmosphere.
I already knew lots of the people there from other places like the Organic Market. A small community which does a lot of things together at any age. A mixture of Mexican people and foreigners like me. Most of the foreigners were from the USA or Canada.
Funny and connective evening with a third little brother
Jose and I got very great along. We could really good work together and laughed a lot. For me he was like a third little brother apart from he is 1,90m  tall ;-). We had a very great time together at the full moon party and during me stay in general.
At the full moon party we had - like Peter said - a very strong connection. We danced together and laughed a lot. I remember when he imitated Arron's Chicago accent (of course with respect ;-) ): "Ther is some juuuice in da friiidge. You knoh." 
Or we both sat at the bonfire, people throw a huge broken wooden umbrella on the fire. A guy tried to balance on it, people cheered him, he slipped out and hit his balls...
Well, I couldn't stop laughing. Even now when I am writing it I am laughing again in my Airbnb room in La Paz :-). Yes, I know it is mean but when I hurt myself I am probably the one who laughed the most and loudest.
Lucky guys
However, we had great fun and around 4am Jose and I were looking for a place to sleep. We took some of the Yoga mats and blankets from the VW van and went around. We were very lucky and a friend came out of his tend and said that they would have two places for us! Perfecto!
Bath in the ocean and nice breakfast with whale watching
On the next morning all the people came out of there tends and we jumped together into the warm ocean. Priceless! So beautiful.
Later we went to the house of the guy who organized the full moon party, Jose cooked, I helped him. The view from the house was beautiful! We could see the ocean. It was said sometimes it is possible to see whales. I checked it out but couldn't see any.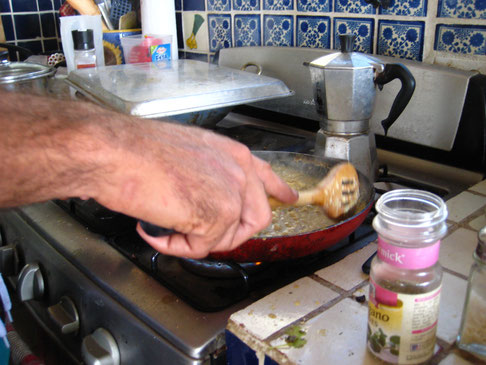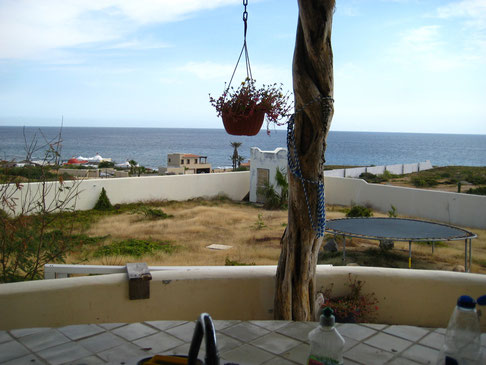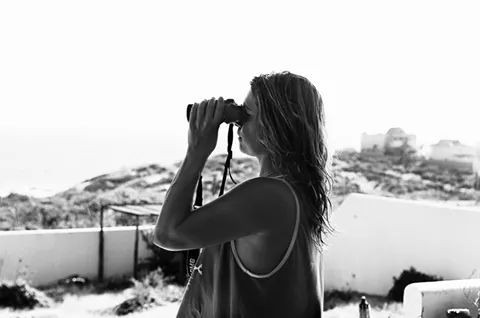 The community around the Full Moon party and Organic Market was really nice. Lots of nice people and people from English speaking countries. They could be very creative in Los Cabos.
They often told me that it they were like a big family. Yes, The people I met on the Organic Market were pretty much the same I met at the Full Moon Party and other places. They were very open and welcoming to new people like me.
Unfortunately, I still couldn't really practice my Spanish. One of the reasons why I came to Mexico.
Teamwork and creative energy
When Peter came back he brought some structure into our community life and said which things would need to be done. Jose wanted to focus on building up the restaurant again and a store to sell some things. 
I helped him to clean the restaurant area and did some other things like cleaning out the bodega, painting some things etc.
It was really great fun at that time when Peter was there. I liked to work with Jose and I had lots of fun with him.
And I found a hula hoop in the bodega and could continue my exercises from the Full Moon Party :-).
I got very creative and loved to spend my energy into the community. That was when Peter was there and when Jose volunteered full-time.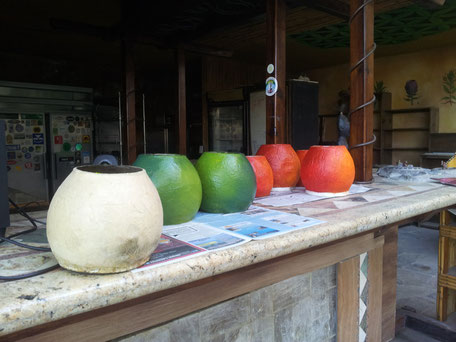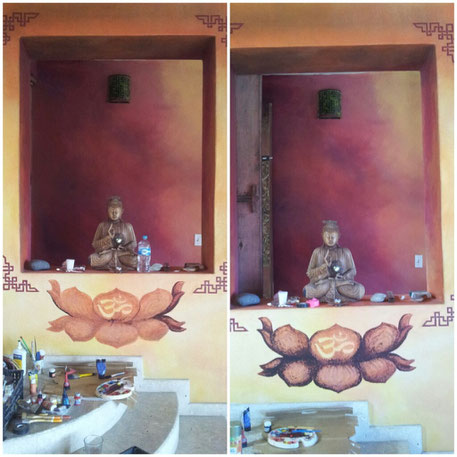 Literally Cleansing cacao ceremony
The community in San José del Cabo was very open for spiritual ceremonies like Ayahuasca and Cacao ceremonies. I attended one evening a Cacao ceremony. It was held at my workaway place at Raices y Brazos.
Magical atmosphere
The whole atmosphere was very magical. Around 20 people attended the ceremony. Candles gave a faint glow and everyone got a smudging ritual in the beginning. It was said that a popular female singer from Baja would also attend the ceremony: Luna. 
Beautiful voice through the candle light
It never met her before and just heard about her. Before the cacao drink was passed around in mugs a woman started singing without any instruments just clicking her fingers to the rhythm of her voice. It was so beautiful that I was stunned and just looked at her. That must be Luna! And she was it. Such a beautiful voice... I was very touched.
After some songs the first round of cacao was passed around to everyone: pure cacao without sweetener. I liked it a lot.
Some people told stories. I got a second and third mug and enjoyed it. I laid on the ground and just listen to the songs. Suddenly I felt that something was going on in my stomach... I quickly ran to the bathroom and couldn't leave it for more than 30 minutes...
Well, it was a very cleansing experience for me. After it I felt so weak that I went to bed. But it was worth it :-). Next time maybe just one mug for me instead of three...
Different Lifes - a short inside view
In the very beginning of my time at Raices y Brazos I checked out the beaches close by. I just sat there and watched the ocean. 
Suddenly a Mexican guy came over with two beer cans in his hand. He offered me one and introduced himself as Luis and could speak very good English. He was working at one of the constructions at the beach. His friends sat a bit further away from us. He looked very Mexican: short and a bit more Indigo features. 
We talked very long until it got slowly dark (around 5.30pm). Luis said that he would walk me home. I was all the time sitting on my towel during talking and when I stood up I was more than one head taller than he was.
Different life...
The way home was quite far. We stopped in between at a Taqueria and ordered some tacos. I told him that I would like in San Jóse del Cabo the Organic Market. He said that would be too expensive for him to go there.
He found it interesting that I travel around and work for food and accommodation. He said people in Mexico go usually to the US work there and come back with money to Mexico and I would do the opposite. He looked around when we had the tacos and said that the people would watch us and think "what want the blonde tall girl with the short Mexican guy?". I told him that probably just he would think that and that the people are just curious because I was the only white person there.
He lived a complete different life than I do. Also different than the people I met on the Organic Market and at Raices y Brazos. And probably he wouldn't fit at all there. I was happy that I met him and got another point of view...
Community family
Yes, the community I got to know to was like a family. A family in a safe place where people could try themselves out and had many opportunities which is very nice.
Many Mexicans from that community told me that Los Cabos is another world than Mexico and if I want to get to know to Mexico and learn Spanish I need to go further South. That sounds like a plan!
What comes Next?
That was part one about my time at San José del Cabo at the nice community around Raices y Brazos.
Read next time about alternative ways of living at Bio Sana, about a day without plans that turned out to be one of the funniest especially when you have someone from Barcelona with you, the appreciation of simple and priceless things, Christmas in the desert and the challenging side of living in a community...
Thank you so much for reading my stories! I really appreciate it. Besos y abrazos