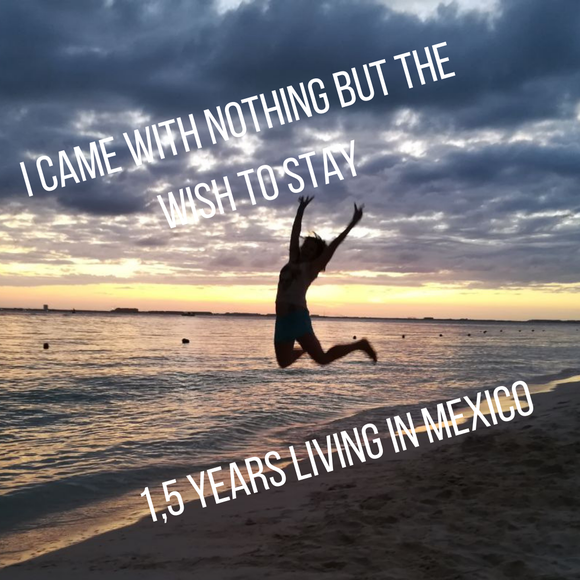 It's already 1,5 years since I came back to Mexico and just stayed. I came with almost nothing from Barcelona but the wish to live here. And the strong belief in myself that I would find a way and live from things I love.
When I look back it was a quite brave and crazy decision... Just me and my two backpacks and the trust that everything will be fine. 
There you go! After some trail and error I have some projects, a kind of stability and recently I got my visa done which feels really good and took a big weight from my shoulders.
In this 1,5 year I learnt lots of things. Like finding a way to live here and do the things I love, that it is great to wait so that good things can develop and love as well.
Well, love.... Love and relationships are quite a challenge for me. Actually for me it was easier to leave Germany and let everything behind as to I let myself fallen in love with my whole heart.. It's kind of sad. However, I want to learn it now and I see that my inner child is really scared.
This post is a reflection of 1,5yrs  in Mexico and how important it is to try out, find out what you like (at the moment), trust in yourself and always remember again who you are and come back on your feet. Have lots of fun and inspiration reading it!
Short Flash back
It was in January 2017 when I took the decision to go back to Mexico. I lived in Barcelona but I wasn't happy there. It was the second time that I was back. I mean I made really lovely friends in BCN and with most of them I still have a great connection. But the place itself wasn't mine.
I missed Mexico a lot. I came back to Barcelona in July 2016 after I lived again in Mexico for 6 month. But I was too scared to stay. I had the belief that in Europe it would be easier for me due to my European passport..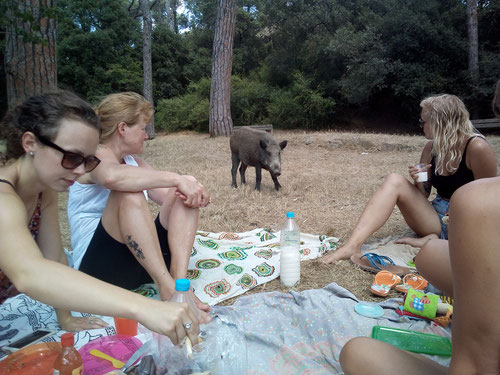 Easy is not always better
Since I came to Mexico in November 2014 during my big journey, I was in love with this vast country with all it's beauty and shadows. There I feel free. Mentally free. There I can be the person I am.
What held me back to go again to Mexico was my belief that it would be easier for me to live in Europe due to my passport. But easy isn't always better. 
I was at the same point when I was in Germany in July 2013 and I asked myself what would be the highest risk?. I couldn't stand anymore to stay where I was. It didn't feel right.
I came to the conclusion that my fear to be one day too old or too sick do take the risk, was bigger than my fear to fail.
 Actually I almost told nobody that I planned to stay in Mexico. I didn't want put pressure on me. So I just left and just told my closest friends about my plan. 
So I did a calculation and made a plan with how much money I would feel good to leave. And I made it and left Barcelona  in the beginning of July 2017.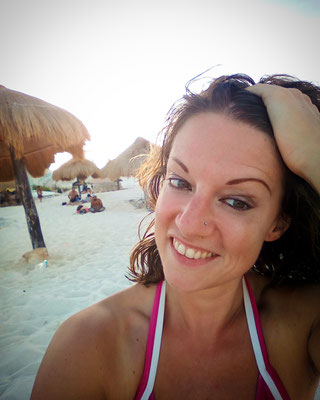 Yoga Tour and what then?
When I came back to Mexico it felt really great. The places where still the same but I wasn't the same person. I felt more confident. I did already some things in Barcelona on my own and created a small community with nice people that participated in my events.
I just knew that I liked Oaxaca a lot, so why not living there again?
I still had not really a plan what I would do. I knew that I liked Oaxaca a lot. There I felt home so I planned to go there and check out how it would feel. But before I had time to think or to worry about it I did another tour for a lovely group through Mexico with Yoga and meditation. It was already organized before I left Spain. That was the only thing I really planned. It was my second tour.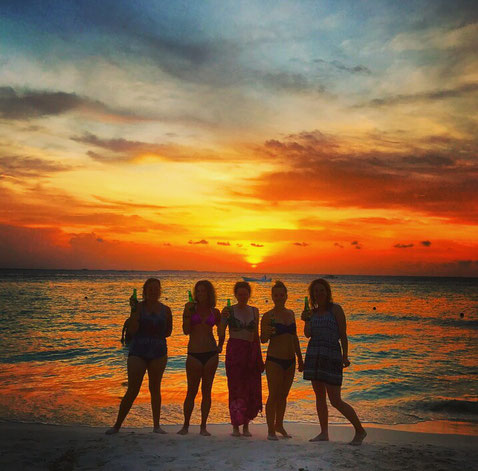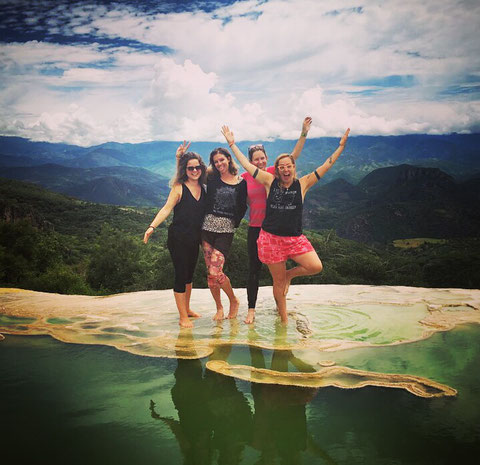 Back in Oaxaca!
After my tour I came back to Oaxaca. It was my favorite place so far and I knew it already from several stays. I could live at the place with the German lady. There I felt the big earthquake in September 2017. Actually the German lady had a rescue dog and she went with the dog to Mexico City to help to find people below the destroyed buildings.
I minded her other dog during that time.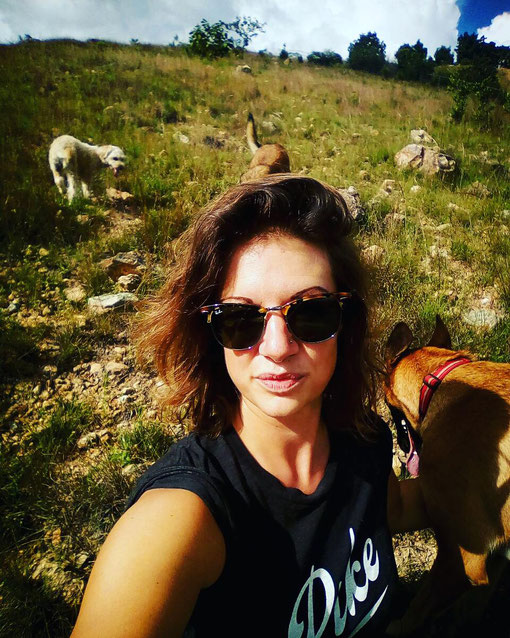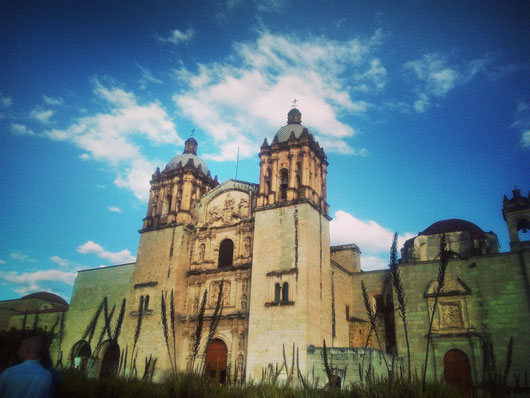 Making friends
I started to integrate myself and  I made lovely friends like Jude a lovely and interesting Mexican girl who inspired me a lot and was always open for my new ideas. I met her when I signed up for a plant medicine course at her Bed & Breakfast Casa Chicatana. We had a chat and realized that we had quite a lot in common.
I gave my first Yoga classes at her Bed & Breakfast for the guests and people in Oaxaca.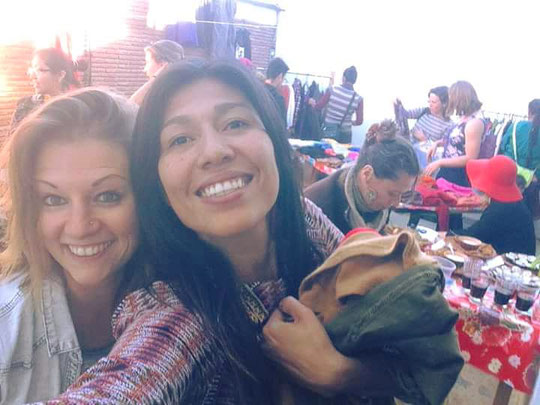 Too important for me to just have sex with
In one of the Yoga classes at Casa Chicatana I should met someone who I slowly started to like more and more. Well to be precise: to fell in love with.
But this happens way later after we have met. We went out a couple of times in Oaxaca  but nothing happend between us. I liked him a lot and found him very attractive but it didn't feel right to do something more with him. I didn't want that it destroys something between us. He was too important for me to just have sex with.
He should later be the person who helped me to find my apartment in Mexico City after I had to leave my old one due to the landlord put a gun into my face...  Later more in this post.
Trail and error - Doing business alone but happy
At that time in Oaxaca I was looking for a partner I could do a project with.I was tired to do everything on my own and thought it would be a good idea to have someone beside me with whom I could create something together... 
So I did several mistakes due to I didn't listen with my heart... Just with my head and even my head was not really clear and cheated on me...
Long story short: After some trail and error I decided to better do the things alone but happy. At least I realized it fast enough.
Community life
Living with the German lady was good to start but first of all it was quite far from the center and I wanted to be around like-minded people who also want to do similar things like I do. I remembered the contact that English girl I have met in Cancun gave me. The contact named Laura. I was already connected with her in Facebook and Instagram and very often I thought that I have to write her. Until she wrote to me!
So we met up and when she opened the door we already had a kind of "link". We had a chat, found out that we have lot in common (she also was a traveler, from Europe half French half Spanish). And she was looking for someone who could give workshops and Yoga classes. There you go! 
A couple of days later I moved into her community she shared with her very funny Argentinian boyfriend.
I had everything I wished for
So I had everything I wished for!
I lived in a community with like-minded people and I gave Yoga classes, workshops and organized with Jude the cloth swap party which was very successful and fun. During that time I did three more Yoga tours.
Until I decided it was enough of those tours. It was really nice in the beginning but also very draining for me. In addition I wanted to integrate more into one place and after every tour I felt like I needed to start from scratch again.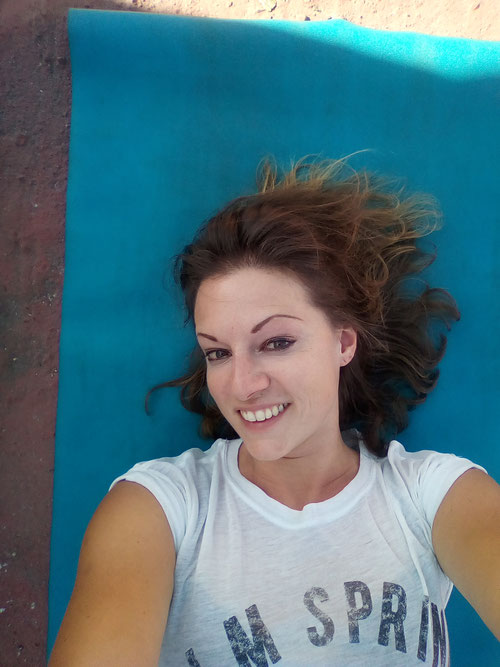 Time to grow
I lived around eight month in Oaxaca when  I realized it was too small for me and I didn't really develop there.
The community was too small for me. I like to have more than a few choices with whom I want to be around. There I meet always the same people at the events. Some I love and some...well  I didn't need to see. Oaxaca is beautiful and I still love it but maybe at a different time.
In addition in Barcelona I was already way further with my projects. Here I felt like I couldn't develop as I wanted to.
Well, later I remembered again that it is also important for me to set an aim to have a direction. This is my engine that keeps me going.
Now I appreciate the moments in which I feel lost - they help me to reflect
Now I appreciate the moments in which I feel weird and kind of lost. It is the perfect indicator that something isn't right for me. 
 Those moments help me a lot to reflect and come back on track. Go within yourself, check out what feels good and what not, what can you change and what do you want to reach (at the moment), then go for it. It take a bit practice but with every moment you will get better. Most important is to take it serious and listen what it wants to show you.
So it was time for a change! Once again.
When I fell in love with the jungle of concrete: Mexico City
I already knew the beautiful parts of  Mexico City through my lovely friend Sarah who I have met in January 2015 in Mazatlan in a hostel where I gave Yoga classes. That was during my big journey. Later we met up again in Barcelona.
Actually she came back one month later to Mexico as me, in August 2017. She is really an amazing friend and person and I am very grateful that our ways have crossed.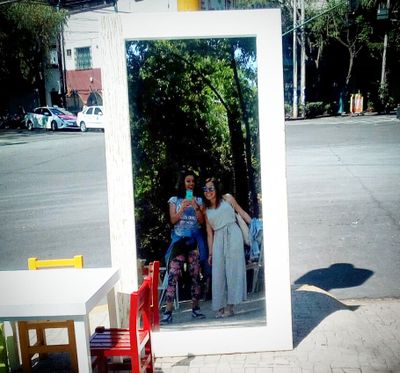 However, every time I visited Mexico City I felt more attracted to this jungle of concrete with all its faces. So I decided in January 2018, when I still lived in Oaxaca,  that I will move to Mexico City! Even though I had no plan at all what I would do there but again the wish that I wanted to live there and do things I love.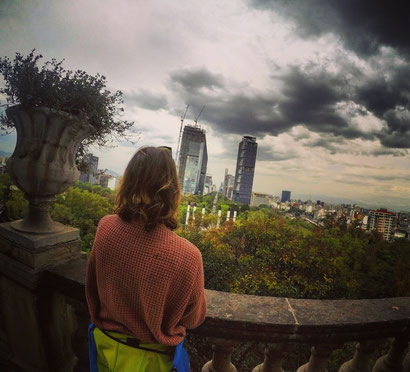 New start in Mexico City with Stand-Up Comedy
There you go! In February 2018 I did another Yoga Tour and after it I went to Nicaragua. I knew already that I would come back to Oaxaca and will live in Mexico City. Even though I had no clue at all what I would do there. But I was sure I will find a way.
When I think about now it was really very brave... Actually writing all my memories down is also a kind of therapy for me and appreciation of the things I have already done and achieved. So I can say that I'm quite proud of the things I did so far. I didn't realized until I started to write this post.
Airport connection and interesting opportunity
I moved in April 2018 to Mexico City. There I could live first with someone I honestly didn't really know. I met him in October 2017 at the airport in Cancun after bringing one of the girls from my Yoga Tour to the airport. He was in the same bus like we were and I found him very attractive. He looked liked an indigenous person. I said to my friend in German that he would be my type but that he would be probably already married and has three children...
I found a way to talk to him and it turned out he was a Stand-Up Comedian in Mexico City on his way to Prag in Europe. We exchanged numbers.  
I almost forgot about him when he suddenly wrote to me in February 2018 when I decided that I wanted to live in Mexico City. He was back and wanted to meet up and I was in Mexico City and I would take my flight to Nicaragua in a few days. So we met up and I still found him very attractive but very reserved. 
We spent the days before I left together but nothing happend so far between us. But on the day before I took the flight to Nicaragua.
I spend three weeks in Nicaragua (actually I came back earlier by bus (!) and didn't take my flight back because I missed Mexico a lot and that was a great and right feeling). The Stand-Up comedian with the beautiful face offered me to stay with him first until I would find my own place. In addition he offered me to work with him due to he wanted to organize Stand-Up Comedy shows. That sounded interesting and like a good opportunity.  I agreed.
Creepy seventy years old "roomie"
So I lived with him, we did't really knew each other but I thought it would be just for a while. Later he said that it would be way cheaper for both of us if I would stay. So I stayed even if the conditions were not the best. We shared one room together and our "roomie", the landlord, was an 70 years old guy who called himself a healer and was super creepy. I didn't feel good when he was around. For me he was a manipulator and charlatan. 
Meanwhile me and my new partner tried to make the best out of it and we started to organize very successfully Stand-Up Comedy Shows. It was a totally different world for me and very interesting. 
I felt horrible and had no clue how to break out of it
However, the situation with the creepy landlord got worse. He told us that we couldn't come home at certain days due to his girlfriend would be there. My so-called partner didn't say anything. Actually he said that for him it wouldn't be a problem because he would come home late anyway but for me... More things happened and I realized more and more that I couldn't count on my partner.
He left me completely alone with the situation and in addition the way he treated me lowered my self-confidence until zero... I wasn't me anymore. I wasn't able to take proper decisions. I realized that my "partner" never said anything nice to me but lots of critics. I felt horrible and had no clue how to break out of it.
Escalation of the situation: the gun in my face
One day the situation escalated and I'm very happy for this because I wasn't able to move.
I came home earlier as my partner with whom it got worse and worse. I put the key in and realized that the creepy crazy landlord let the keys inside so that we could open the door. I rang the bell storm until the crazy landlord opened the door.
He opened the door completely naked! It was disgusting and the drop that made the cup ran over. In that moment I was too angry to say something. I just send a massage to my partner and he replied he would talk to him.
On the next morning I came into the kitchen where my partner and the landlord were having a nice chat and of course my partner didn't say anything. I was upset and so it was once more up to me to say something. I said to the landlord that it wouldn't be ok what he did and he freaked out and shouted at me. Then he left the kitchen.
And came back with a gun and pointed it at me screaming again. I remember very good this moment. And I was full of hate. I tried to keep calm and managed it somehow. But I was at the point to kill him... This situation woke up the animal within me, I always tried to hide it. Now I realized it is there to protect me. And I realized that I'm the person that attacks to defend myself. This situation helped me to come back to myself. I mean it could be in a softer way but it helped me.
After the crazy guy calmed down me and my partner left the house and went to the police. Well, you can actually tell someone in the street and that would be probably more efficient.  Anyway, the police didn't help us. We came back later to the house were I took my things together and checked out a place to stay.
The situation was already worse. But I think the worse part was how my so-called partner treated me. He gave me the fold about it and said things to me that really hurt me and shocked me. I couldn't believe what was going on. So I left with my belongings and went into a hostel in the night and broke down alone in my bed. I think I had never feel so alone in my life before. It was like someone took the floor away below my feet.
"I will go my way..."
One the next day I wrote to my friend and former Yoga student in Oaxaca, the one I went out with but nothing happend. He was the only person I knew that might knew how to find a place to live. My friend Sarah was in Germany at that time. 
My Oaxacan friend sent me some websites and lovely words. It helped me already. He was super sweet and I appreciated him even more.
However, long story short: 
That bad situation was great because I remembered who I am and found on the same day a perfect place to live in one of the most beautiful areas in Mexico City close to the beautiful park Chapultepec with one of the best roomies I ever had (muchas gracias Maria por ser como eres :-* ),
And I got to know to the co-working place AYNI where I feel integrated and very welcome. I got to know to them through a substitution of a Yoga teacher friend of mine and they contacted me again to give Yoga classes there. The owner of AYNI connected me with a company where I give so-called "active breaks" for the employees so that they have some movements and stretchings in a fun way.  And I volunteered in the Huerto Roma Verde which connected me with a very cool guy who has a place where I'm giving now Yoga classes...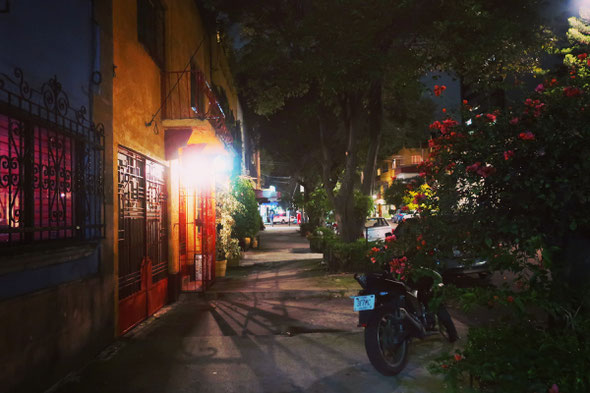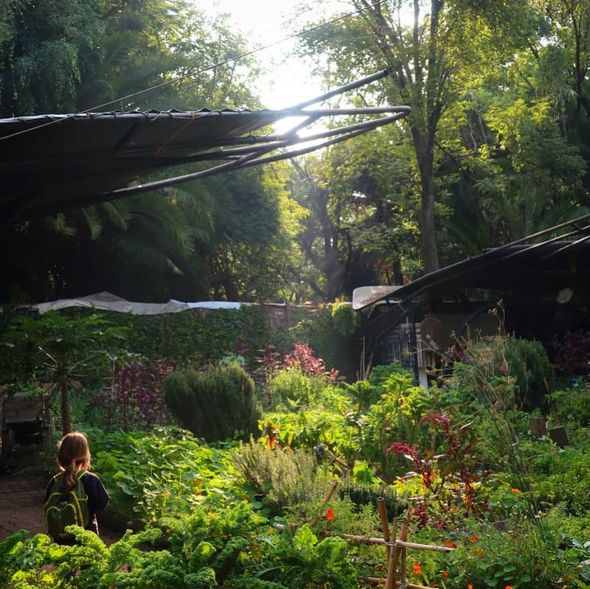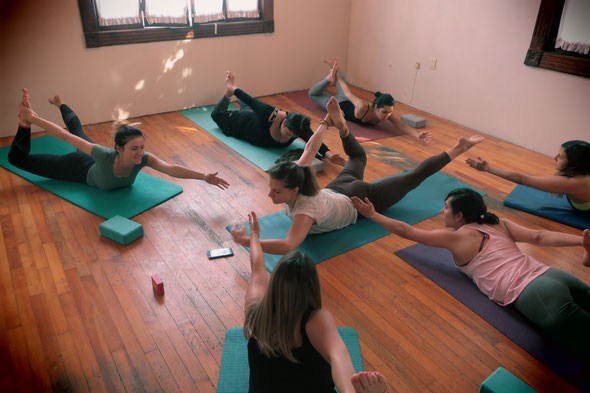 I'm very grateful - I have everything what I wanted
I got back on my feet and realized who I really am. I found my own way and I got to know to lovely people in Mexico City who inspire me and support me on my way. It's amazing. I'm still on my way and I'm checking out which direction is mine and what makes me feel good. Sometimes I adjust again and take another path. All those connections, trying outs and adjustments are helping me on my way and brought me interesting experiences. 
For example I took care of the children of a famous Mexican actor without knowing it until someone told me. He is famous international and I carried his young daughter around on my back and explained to her what amaranth was.
By the way: good things take time and Mezcal helps...
By the way the story with my friend and former Yoga student from Oaxaca who help finding a room went on. We wrote more and our conversation changed... 
Until we reached the point that there might be more than just friendship. I was curious and wanted to know if there was really more. So I visited him in Oaxaca in the end of November 2018. I came with the idea that I would be ok with every result because I liked him anyways.
I was ok with every result because I like him anyways
I took the bus to Oaxaca in the end of November and I could stay with Laura, my friends from the Yoga community who was expecting a baby! 
I met up with my Oaxacan friend to have breakfast together and I was quite nervous. He as well. And he said it before and that made me feel a bit more calm. This also something that I like a lot about him: he says what he thinks and has "huevos". 
Yes, I like him a lot and the magic of mezcal
When we had breakfast it was really lovely and I was happy to see him again. I wasn't sure if there could happen something between us even though I felt very attracted to him. We talked very openly about everything. 
Later on the same day we went out together and had some beer. And Mezcal... Well at some point he took my face between his hands and kissed me and it felt beautiful. The ice was broken... 
Meanwhile we are visiting each other and I really like him a lot and I love spending time with him. It feels beautiful and authentic with him. I can be who I am with him and this I value a lot. This is actually my indicator now. When I can be who I am and it feels that I can be who I am.
He inspires me a lot. He doesn't need me and I don't need him but we decided to spend time together. For me that is my definition of love at the moment.
So I'm very curious about the way and let's see what will happen. Even if I have to admit that I'm also very scared. Like I said, it was easier to leave Germany and my "secure" life behind as to open up completely and love with my whole heart. But I really want to learn and experience it.
Lots of love and thank you very much for ready my story!