I was on the road again! This time I visited Portugal. I needed to travel again and get some inspiration and do things for myself. I needed it very badly. Well, I'm very good in teaching how important Self-Compassion is but I didn't take time to practice it for myself or let's say not enough. "You cannot pour from an empty pot." So it was high time to leave. 
And I found inspiration! Not as I had expected it but like I obviously needed it. 
In addition I felt finally what it means to come home and feel good being back. Firstly I was a bit confused and didn't know what was going on with me. But then I realized that everything is just great as it is.
Never google symptoms
The weeks before I left to Portugal I was really tired and my body was hurting. Obviously I overdid it and didn't take much care of myself. Yes, I'm good in teaching self-compassion but forgot totally to do the same for me or rather do more of it. My muscles were sore and very tight. Even peeping was lots of effort. Like a good hypochondriac I googled the symptoms. 
Well, we all know it always leads either to cancer or anything very serious and incurable. In my case it was Multiples Sclerosis and for a couple of days I really feared I could have it… 
Later I check out my Ayurvedic books for the symptoms. There you go! I found something that explained exactly what was going on with my type and what I need to do to balance it again (next time I will check just my books). Mine was simple: taking a break and relax. 
There you go. Portugal I'm coming!
Olá Portugal!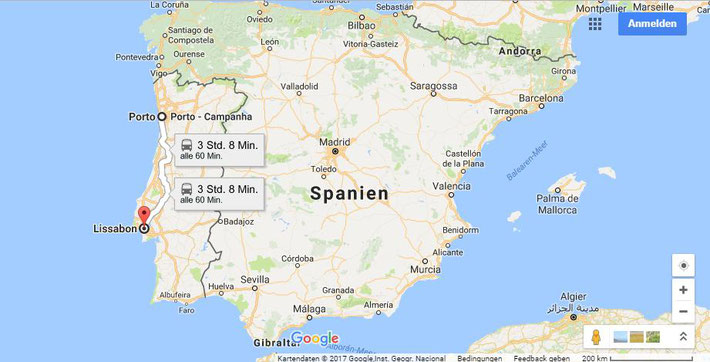 I arrived in the late evening in Porto. I took the train from the airport to my hostel. 
In the train a German girl and her American boyfriend and his son seated beside me. The girl was really nice. Probably in her mid-twenties. And the guy… well he was a dick. She tried to have a conversation and he was just mean to her in a very disrespectful way. I felt pity for her. It felt uncomfortable to sit beside him. I was about telling her to look for another guy due to she would deserve better. I didn't . When I reached my stop I just felt relieved that I don't have something like that beside me.
I found my hostel easily and the guy at the reception was friendly and attentive. The hostel itself didn't have a comfortable atmosphere. Anyway, I just booked two nights here. That is my golden rule. Two nights are enough for me to check out if I want to spend more time in this city and if there are better hostels. 
I through my stuff into my room and went out to check out a place to eat. I had heard that food should be good and cheap in Portugal. But I was very late, tired and there wasn't something nearby. However there were many prostitutes in this area… Well, interesting. I went back to my hostel and fell fast to sleep.
On the next day I was awake at 7am. Well, Portugal is one hour ahead Spain. So I used my time to discover Porto, I took the following photos there.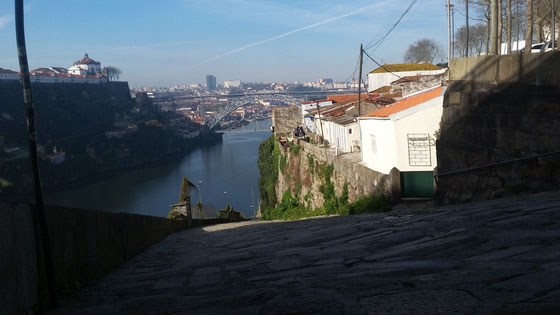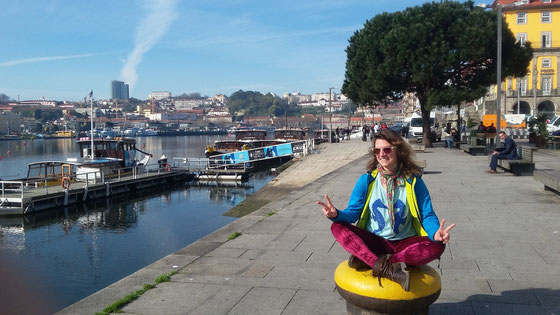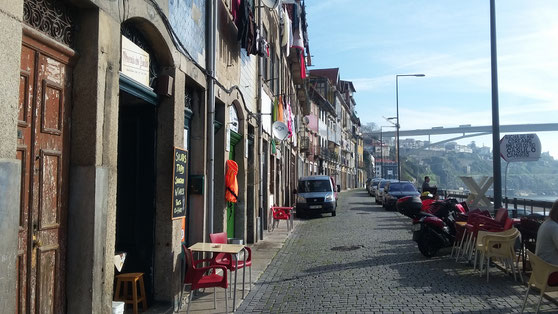 At 11.30am I was very hungry and ready for lunch (one hour ahead…). So I found a very nice place with a breakfast buffet for 6 EUR. The place named Belos Aires. The girl who worked there is from Greece and very sweet. I had a nice chat with her.
The people who were eating there wished me a happy women's day. Yes, in general I have to say people are very friendly there and talk in a quiet voice if you compare it with Spain. That means you can understand your own voice ;-).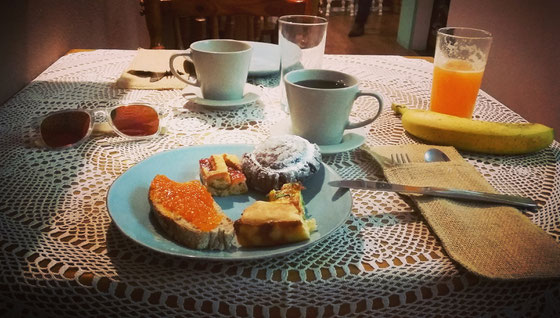 In the evening I went to a place which I found as well by coincidence. I would call it a kind of cult place: Casa Guedes. That means locals go there and have their after work snack. I ordered the typical 'snack': bread with pork and a beer. You pay directely and the waiters kind of special: closed but friendly. So actually a bit like in Germany apart from the prices ;-). I think I paid about 3,50 EUR for everything. I'm quite a lightweight and could immediately feel the beer… It was a nice day!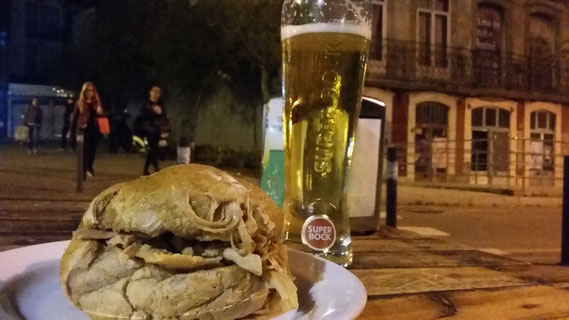 Making a decision and sleepless night
Back in my hostel I decided to go to Lisbon on the next day due to here in Porto you can see almost everything in one day. So I booked a Blablacar for the next day. My roommate Alice in Barcelona lived there for a while and was fallen in love with this place. So I was very curious how it might be.
In addition this night I couldn't sleep at all due to there was a guy snoring really loud in my room. My earplugs were useless. Everyone was upset. A girl tried by coughing to let him know but it was useless. I had a bottom bed, stood up and woke him up and let him know. His answer was "Sorry, but it's like that!". Well... Great that at least one out of 7 people had a good sleep that night... Lisbon I'm coming!
Lisbon – mixture of Bordeaux & Barcelona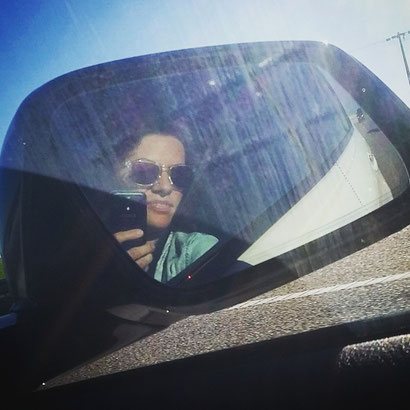 The girl who drove the car was really nice and spoke very good English. However, due to Portuguese and Spanish are very similar I could understand people and they understand me as well.
That kind of hostel I love!
She dropped me near a metro station and from there I went to my hostel which was suited in the city centre: Poets Hostel. 
When I walked into it I knew exactly "this is my place where I feel comfortable". The atmosphere was really nice and calm. The people who stayed there were people like me who were looking for a calm but social place. In addition the breakfast was really good and you have coffee and tea for free the whole day. Shortly before I left started a nice Portuguese girl to cook there every evening a very great dinner for a reasonable price. She was really sweet and I regret a bit that I didn't say goodbye to her.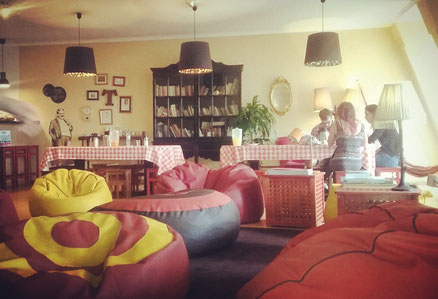 Lovely roommates from Germany
In my room I got directly to know to two lovely girls from Germany: Alina and Sarah. They just ended their psychology studies and were on vacations. Alina was considering to do a Yoga teacher training and we exchanged about that and about her studies and view on psychology and spirituality. It was very inspiring for me to talk with her and Sarah.
So it was obviously meant to be that we met here :-).
I went with them to buy some things in a supermarket. Portugal might be cheap but it is even cheaper to prepare your own food and in addition I like to prepare my own food.
Beer on wine...
When we came back there was a French-Brazilian guy who shared with us his beer and wine. Well, after a beer and glass of wine I was drunk…
I wanted to see more from the city and the French-Brazilian accompanied me and showed me around. I was surprised that many people offered us to buy "Marihuana and Cocaine…". I later found out that it was very normally here that people sell it.
However, I had a nice evening and woke up with a small hangover. 
Time to take a break - beach day!
I saw that I didn't take any break at all so far and was very restless. So I took the advice from the German girls and took the train to the closest beach nearby in Cascais (40 min by train).
During the journey I had lots of thoughts and worries going on about my life and what I want like "what if this and this happen? Isn't staying Barcelona waste of time for me? I could use my time better, but how? What if I will never find a partner…?". When I finally became aware about it I said: STOP! If the life and world isn't the one you want, then create the life and world you want! YES! That's it. And I relaxed, turned on Manu Chao.
Surprise at the beach
I arrived at Cascais and went to the beach. Well… 
It was actually one of the ugliest beach places I have seen so far. Surrounded by buildings who reminded me of the Plattenbauten in Germany's East Zone.  I was baffled, remembered my conclusion in the train and then just started laughing and looked for a place where I spread out my Hippie blanket.
Actually I had a very funny day there.
I had lots of entertainment when I looked around: there was a group of young guys who kicked a football around and accidentally hit a girl, two young guys from Germany where bothering each other and said funny things in German which made me laugh, a group of guys danced to a funny song along the beach… Guys want to play. Yes, they want. Something what my coach Xochi always says.
Light bulb moment!
I was watching the playing guys when suddenly I had a light bulb moment for an event that would be fun for me and for others as well!
I created a MindMap with my ideas and after a while my paper was full. Yes! That could work out!
Back in Barcelona I would check it out and go into the details. Now I'm very excited like a little girl to get started with it and try it out! That is what life is about: trying out and think like a child, look what is fun for you. And most important is to create the life and world you want. "Change your view to look at things and the things you look at will change" ~ Dr. Wayne Dyer.
Changing plans, having nice cakes and go to Women's Circle
I was thinking I would go further South or maybe to Andalusia but in the end I decided it would be too stressful and I felt good here in Lisbon surrounded by nice people in the hostel.
In addition I missed Barcelona... So I booked an earlier flight back to Barcelona and I was surprised how I was looking forward to come home…. Was something wrong with me? Am I tired of travelling? Well, I'm not tired of travelling but the reason why I went on vacation was to come down and find inspiration. I found that in Portugal. Now it was time to rest a bit and that I could do best at home…
So I decided to check out some nice places in Lisbon, tried the traditional Pastel de Nata (many of them...) and went to a Women's Circle which I found on Meetup.
What is a Women's Circle like?
Well, first of all it is just for women ;-). I always wanted to attend one since I heard about it when I was in Mexico. Since I have left Germany I found back to my female side and the appreciation of being a woman. When a group of open-minded and open-heart women come together to exchange it can be a very powerful and inspiring event. So I was curious. I went there and it was really beautiful made. The organizer explained the rules and shared her thoughts first and then every woman could tell something or not. It was very interesting and inspiring for me. Their thoughts and stories reminded me of what I have already learnt and also again how important self-compassion and self-care is.
I came back to my hostel with lots of positive energy. I was thinking to organize a women's circle on my own. And I'll but right now I like to attend some more and take them as my source of inspiration and for my self-care.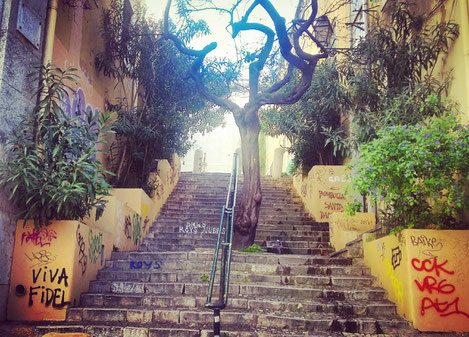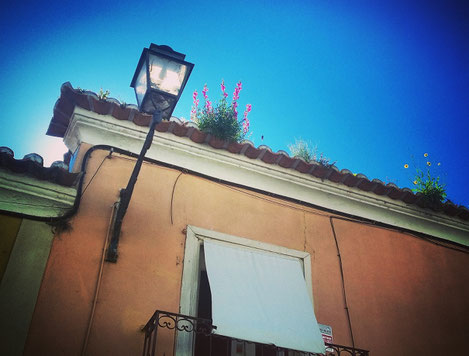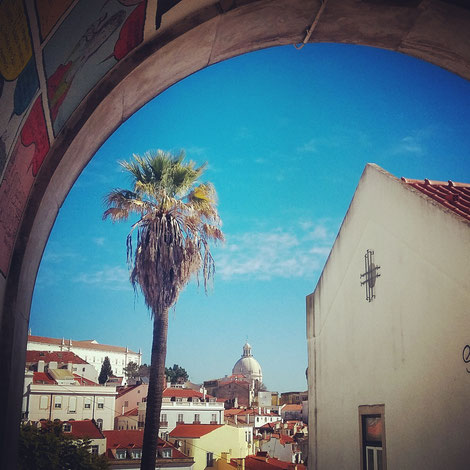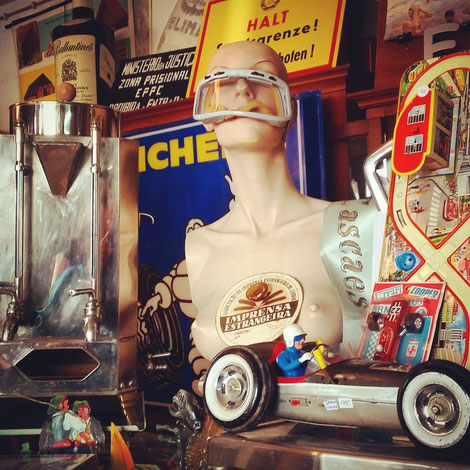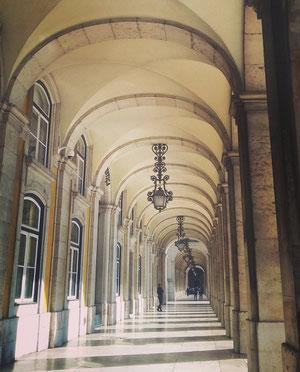 Found what I was looking for & even more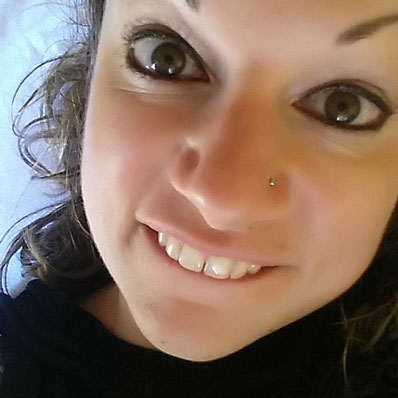 This trip to Portugal was to find inspiration and doing something for myself. I felt once again how powerful self-compassion is and how great it can be to travel on your own. Actually you are never alone. I found all of these and even more....
Most important thing I have learnt from this trip
One thing I found is very important for me and when I faced it I first didn't understand it.. I was wondering why I felt like to come earlier back to Barcelona where I live now. Was I tired of travelling? What was going on?
I finally understood it when I came back to Barcelona and entered my shared apartment.
I cannot remember when I had the last time this feeling. I didn't have it in Germany. I remember when I came home from vacations and entered my apartment I always wanted to leave it right away and go for another adventure. For example in 2012 I was on language vacation in Edinburgh in Scotland for 3 weeks and  lived there in a tiny room in a students accommodation and shared the kitchen with lovely other students from the language school. Every evening we sat together and cooked something. Back in Germany in my big apartment I felt empty and sad. That was actually good because I knew I could easily let go of it and wouldn't miss it.
Yesterday I entered my shared apartment, took a deep relieving breath and felt just good. I already felt it when the bus from the airport brought me to the city center.
My nice flatmates welcomed me very sweet and I was happy to see them. Yes! I'm feeling home. For now. Circumstances change and so do I. But for now it feels good and I'm very grateful for it.
Sometimes we need to go to approach again: Travel to come closer.  That is also the motto of my next Mexican tour in August. Check it out and sign up soon to save your place.
Thanks a lot for reading my story!