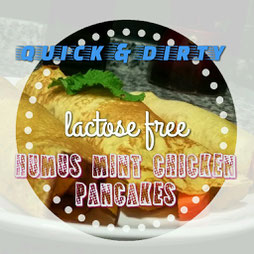 I like it "quick and dirty"... like we used to say in Ruhrpott where I grow up. We used it when we talked about things which should be done in an easy and efficient way.
So is my cooking style.
The following recipe I learnt in Spain from a Canadian chef who showed me how to make perfect pancakes. Since then I made them for friends in a cave house, in Mexico as breakfast in a hostel etc. I love them due to they are also very healthy and filling.
***For German translation click here***
Recipe for 4 filled pancakes 
---
Why is the recipe great?
- Its very easy and fast to make. 
- It taste very good either warm or cold.
- Great for lunch break.
- It's lactose free.

---
Step 1: Dough preparation
1 egg




2 tbsp whole wheat flour

1/8l rice milk (bought version or make it on your own, recipe is coming soon!)

3 tsp coconut oil for pan

1/2 tsp curry powder
1. Mix all ingredients together.
2. Heat pan with coconut oil and rinse around 3 tbsp dough in the middle of the pan and fry the dough from both sides
---
Step 2: filling
200g chicken breast
1 big carrot
small onion
2 tbsp humus
some mint leaves
3 tsp coconut oil
1. Cut the chicken breast, carrot and onion in small cubes and fry them in a heated pan with coconut oil.
2. Add after it the humus and mint leaves.
3. Put 1,5 tbsp on one of the pancakes and roll it together to a roll like in the photo.
4. Enjoy! :-)